These healthy chicken fingers are an all-time favourite at my house. They are great for all ages and even appetizers if you make them small, served with some dipping sauce. Making healthy chicken fingers from scratch is so easy you'll never get store-bought again! Since you are making them from scratch you can cut them to whatever size you like. If you want nuggets, just cut them in nugget shapes instead of strips.
I used an Acti-fry air fryer for this recipe, but you could easily bake them in the oven. I'll provide instructions for both ways.
This website contains affiliate links. As an affiliate, I earn a small commission from qualifying purchases (at no cost to you).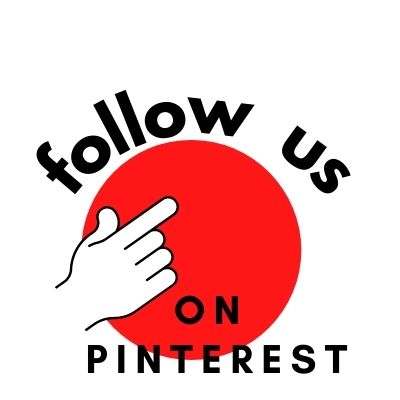 Follow us on Pinterest for more recipes and inspiration
Kitchen tools needed to make these healthy chicken fingers from scratch.
Shopping list for Healthy chicken fingers
2 pounds boneless skinless chicken breasts
garlic salt
egg
garlic plus seasoning
panko crumbs
all-purpose flour
canola oil
Recipe for Healthy Chicken Fingers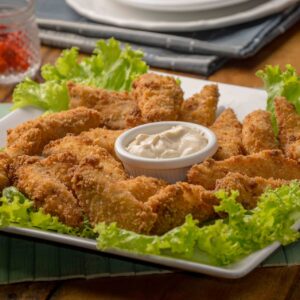 Healthy Chicken Fingers
lThe healthy chicken fingers are low carb and easy to make. Making them from scratch is so easy, you'll never go back. friendly
Ingredients  
2

lbs

skinless boneless chicken breasts

2

eggs

1/2

cup

Panko bread crumbs

1/2

cup

Paremesan chees, finely shredded

1/2

tsp

garlic salt

2

tbsp

Galic plus seasoning

2

tbsp

all purpose flour

2

tbsp

canolla oo;
Instructions 
Slice chicken breasts into strips.

In a shallow bowl add then eggs and lightly whip with a fork.

In a second shallow bowl, combine panko crumbs, parmesan, garlic plus, and garlic salt.

In a third shallow bowl, add the flour

Dredge each strip in the flour. followed by dippping them in the egg and then coat them in the bread crumb mixture.

Add the oil to your air fryer

Spray the rack or basket that your chicken will be in with non-stick cooking spray

Place fingers into the basket, making sure they are not touching.

Set the timer for 15 minutes. Time may vary depending on the size of your fingers.
Panko Crumbs vs. regular bread crumbs
Panko bread crumbs are a Japanese style of breadcrumb. They are made from white bread without the crust. They are flakier and lighter than regular breadcrumbs. Panko breadcrumbs absorb less oil than regular breadcrumbs, resulting in a lighter crispier coating.
You can use regular breadcrumbs but if you have the option, definitely go for the Panko style breadcrumbs.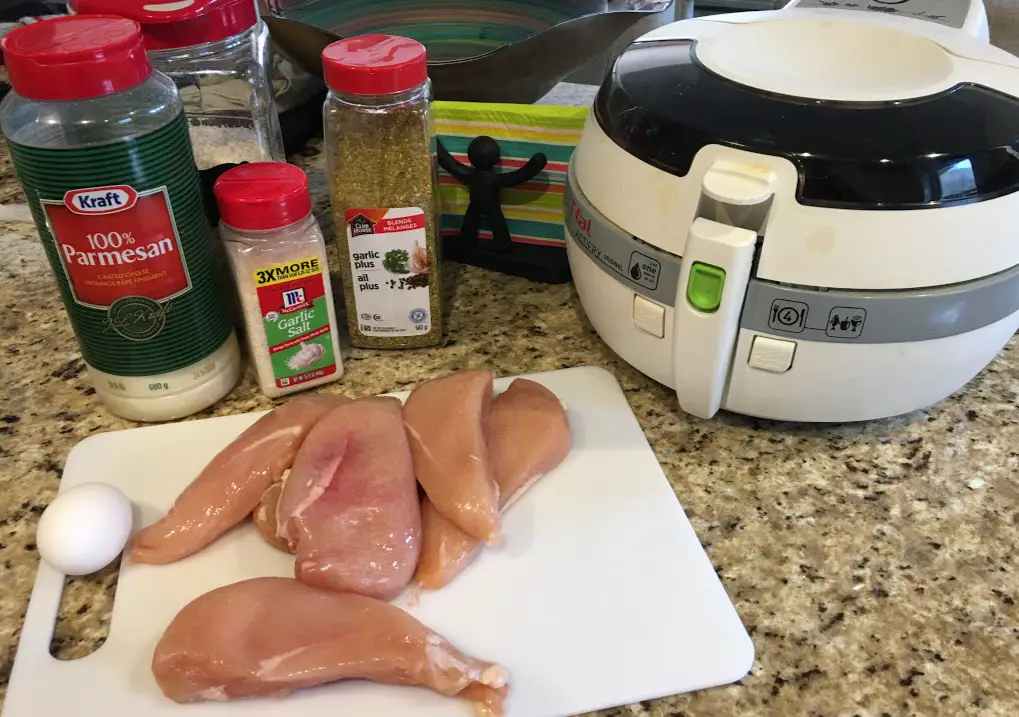 Using an air fryer
We use an Acti fry air fryer on a regular basis. It gives your food a nice crisp deep-fried taste without the extra oil. We also purchased a fryer basket that fits in our air fryer. It is essential for air frying anything that is more delicate and could be ruined by the rotating paddle.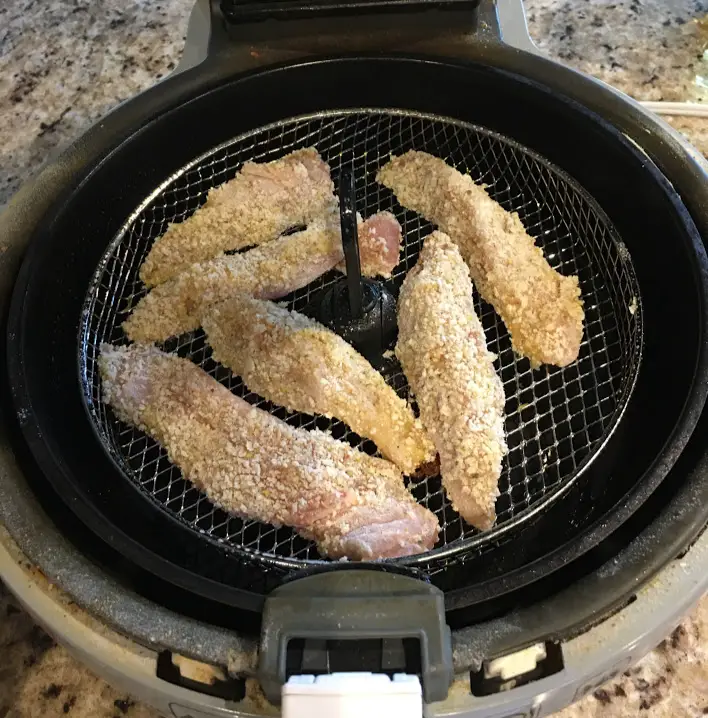 Any brand of air fryer is suitable for this recipe as long as it has a basket. The Actifry air fryer does about 6 to 8 chicken fingers at a time. Each batch takes about 15-20 minutes depending on the thickness and lengthen of the chicken fingers.
When placing the chicken fingers into the air fryer, make sure that there is space in between the chicken fingers for the air to circulate. this will result in a nice crispy coating and no sticking together.
Always give the surface of the wire basket, where the chicken fingers will be cooking, a light spray with a non-stick cooking spray.
Wire basket for the Actifry air fryer.
;" />
Making healthy chicken fingers using an oven
It is easy to make these healthy chicken fingers in your oven. Follow these simple instructions.
Line a baking sheet or sheet pan with parchment paper
after coating the chicken fingers with crumbs place them onto the parchment about half an inch to an inch apart.
Bake at 400° F for approximately 10 minutes.
turn the chicken fingers over and bake for about another 5 minutes.
How to get your healthy chicken fingers a little bit crispier in the oven.
Spray a wire baking rack with a non-stick spray and place it on a baking sheet or sheet pan.
Place your chicken fingers on it about 1/2 to an inch apart.
Bake for approximately 15 minutes in a 400° F oven
NOTE **Baking time may vary depending on the size of your chicken fingers.
Recipe for homemade dipping sauce
This is the perfect dipping sauce to go with your healthy chicken fingers. It is also great with chicken wings, breading pork medallions and so much more.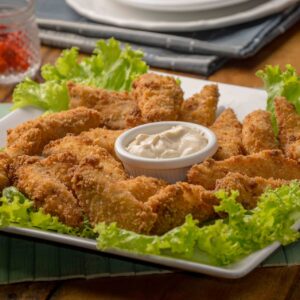 Dipping Sauce
This dipping sauce is a perf3ect addition to your healthy chicken fingers, It is easy to make and loowcarb.
Ingredients  
1/2 

cup

mayonnaise

2

tsp

yellow mustard

1/2

tsp

garlic plus seasoning

1/2

tsp

onion salt

1/4

tsp

smoked paprika

1

packet

sweetener or 1 tsp sugar
Instructions 
In a small mixing bowl, add all the ingredients.

Using a whisk, mix well until thoroughly combined
This dipping sauce recipe is also good served with mozzarella sticks, deep-fried shrimp and can be used as a burger sauce.
Nutritional information is based on 6 servings for our healthy chicken fingers recipe.

Thanks for visiting Baker Street Living.
Disclaimer: This post contains affiliate links. We receive a small commission when purchases are made through our links. Thank you for your support.