It was a family tradition when I was growing up to drive out along the lake to a local orchard and pick peaches. I recall eating them right off of the tree. They were hot and juicy. they were so good and I looked forward to fresh peaches every year, not to mention the yummy peach cobbler and peach pie that was coming. One of our favourite recipes to use with peaches was my mother's old fashioned peach cobbler.
There is no dessert as delicious as those made with fresh fruit. I can almost smell the fresh apple pie cooking, just thinking about it.
This website contains affiliate links. As an affiliate, I earn a small commission from qualifying purchases (at no cost to you).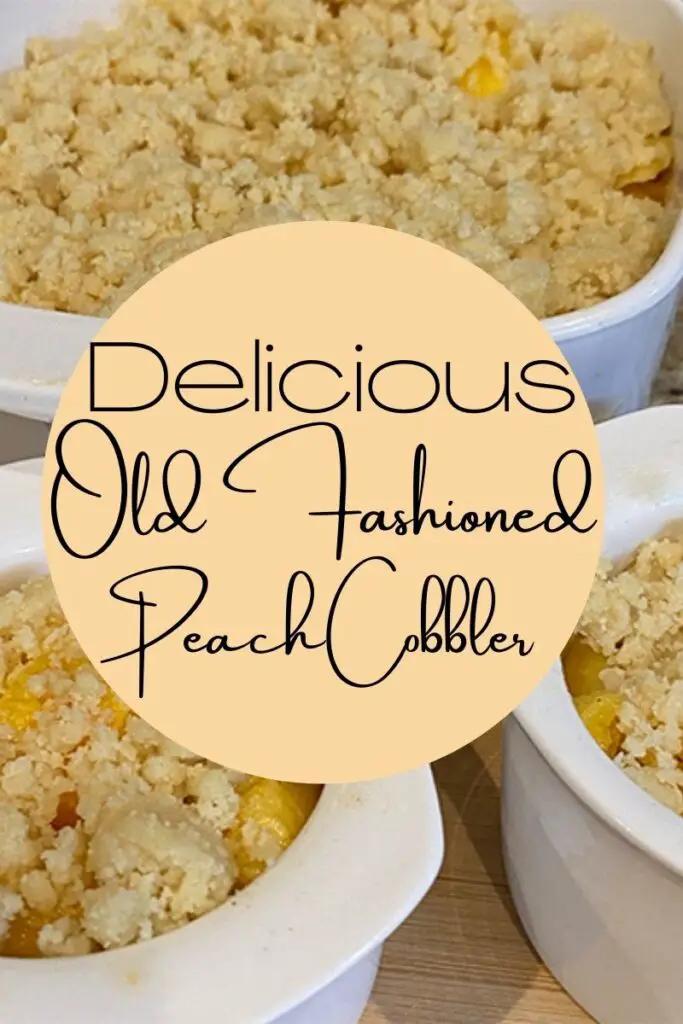 Jump to Recipe
How to choose peaches for baking.
When cooking with peaches there are a few things that will help you along the way. All peaches, when ripe, taste delicious, but when it comes to peeling and pitting there are some helpful hints that will ease the pain. Knowing the best type of peach will speed up the process and reduce your frustration when trying to slice up your peaches.
Peaches are either Freestone (cling-free) or Clingstone.
A local orchard near me calls their peaches Semi-clingstone, which is a hybrid. As far as most cooks are concerned if it isn't Freestone or cling-free, it will be harder to work with.
The term freestone of clingstone refers to whether the fruit sticks to the pit or not. The pit is referred to as the stone of the peach. If it is a free-stone, that means the pit can be easily removed while maintaining the integrity of the fruit. A clingstone peach will be harder to remove from the pit. It doesn't make a nice smooth slice and can be difficult to remove the slices from the pit.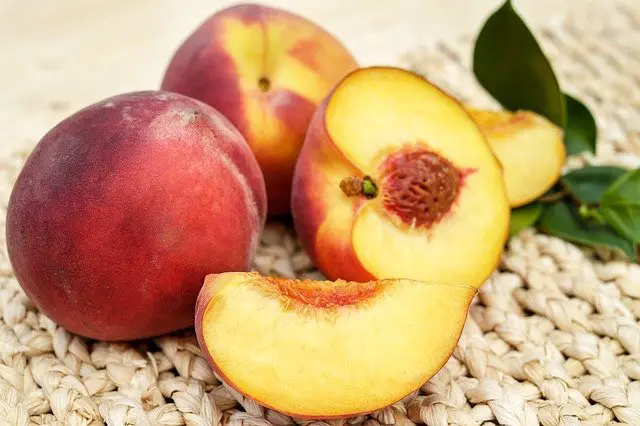 There are also different types of Freestone and Clingstone peaches.
Two of the most common are yellow and white. Nectarines also fall into this category but I will stick to what most refer to as a peach. The yellow peach has a redder skin colour and is usually available at the end of summer. They are usually sweeter and juicier. These are our favourite, as they are they have more flavour and are nice in most recipes.
There are many varieties of both Freestone and Clingstone peaches. They vary in size, so when you are following the peach cobbler or peach pie recipe, you may need more or less depending on the size of the peach. The peaches I used in the recipe were Red Haven – freestone. They are medium-sized sweet peaches that are extremely easy to pit.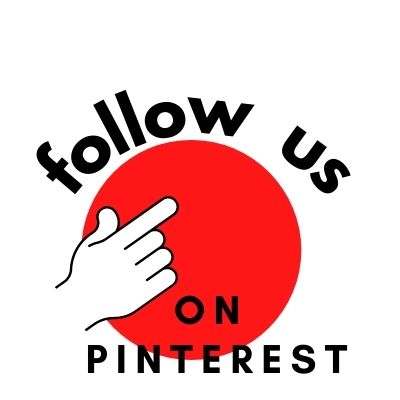 Follow us on Pinterest to save this recipe and get other great recipes and craft inspiration. https://www.pinterest.ca/BakerStreetLiving/_created/
The easiest way to peel peaches.
The worst part about making the peach cobbler or pie or any peach dessert is always the peeling of the fruit.
If you follow this tried and true method it will become the easiest step in the peach cobbler recipe process.
The easiest way to peel peaches – step by step
Step 1
Fill a medium-sized saucepan with just enough water to cover one layer of peaches.
Step 2
Bring the water to a full boil.
Step 3
Prepare an ice bath by, filling a large bowl or pan with ice water.
Step 4
UOce the water is boiling, use a slotted spoon and place each peach into the boiling water. Make a single layer only. Do not pile them on top of each other..
Step 5
Let them stay in the boiling water for about 30 seconds.
Step 6
After the 30 seconds have passed, lift the peaches out of the boiling water using the slotted spoon, and then place them into a bowl of ice water (ice bath).
Step 7
After a minute or so, the peaches should be cool enough to handle. Remove them from the ice bath and slide the skin off and set them aside.
Repeat the process until you have all of your peaches easily peeled.
This no-fail process makes the skin slide right off of the peach, saving you time and keeping the nice peach shape. Not to mention, that it is st5ress free.
Image Gallery – How to peel peaches the easy way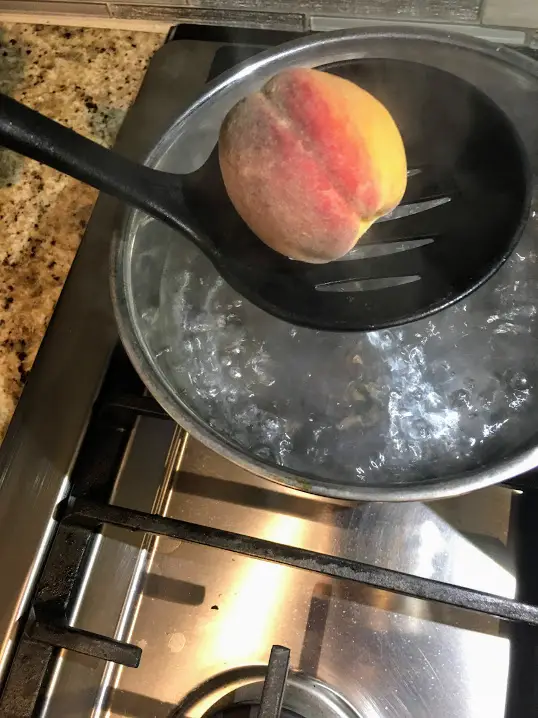 If you find that when you've put your peaches into the boiling water and then the ice bath and the skins are still not sliding off, it usually means that the peach is not fully ripe or they are old.
If they feel hard before you start, then it is best to wait until they have softened up.
How to soften hard peaches
Peaches can be easily softened if left out at room temperature or in a ripener.
Place the peaches in a bowl or use a fruit ripener (like the one pictured below) and leave them at room temperature for a day or two.
Placing peaches in a paper bag can speed up this process. Check them the following day for softness. do not let them sit too long before either using or placing them in the refrigerator.
Kitchen supplies needed for old fashioned peach cobbler
Shopping List for this Old Fashioned Peach Cobbler recipe
Peaches (cling free)
sugar
ground connamon
tapioca pearls
tooled pats (oatmeal)
brown sugar
butter
salt
Recipe for Old Fashioned Peach Cobbler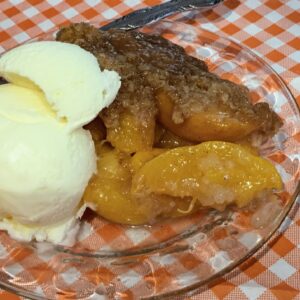 Old Fashioned Peach Cobbler
This delicious recipe goes well warm with a scoop or two of ice cream. It has a fresh sweetness that no other fruit offers. can be made into a peach pie as well.
Ingredients  
Filling
6

c

peaches, peeled, pitted and sliced

2/3

c

granulated sugar

1/4

tsp

ground cinnamon

1 1/2

tbsp

tapioca powder ( or cornstarch)
Crumble Topping
1/2

c

rolled oats

1/2

c

packed brown sugar

1/4

c

all-purpose flour

1/2

tsp

ground cinnamon

pinch

salt

1/3

c

butter
Instructions 
filling
Peel peaches, remove pit and slice into medium sized mixing bowl ( or large pyrex measuring cup.)

Mix tapioca powder, (or cornstarch) cinnamon and sugar in a small bowl.

Pour dry mixture over peaches and stir until evenly covered.

Pour mixture into a large casserole dish (or desired oven-safe dish) and let sit for at least 15 minutes before adding crumble. top.
Crumble Topping
In a medium sized mixing bowl, mix the oats, sugar, flour, cinnamon and salt.

Cut cold butter into small pieces and add to the dry mixture.

Cut in with a pastry cutter until you get a nice crumble texture.

Pour onto top of peaches in the casserole dish and pat down slightly.

Bake in 375° F oven on center rack for 45 minutes.

When done. Let sit for at least 20 minutes before sercving. this allows the fruit to absorb some of the juices.
variation – Peach Pie
Reduce amount of peaches to 4 cups

Reduce tapioca to 1 Tbsp

Follow instructions for cobbler, using a single crust pie shell and the crumble topping
Both the peach cobbler version and the peach pie version are equally delicious. Make and enjoy and share with those you love.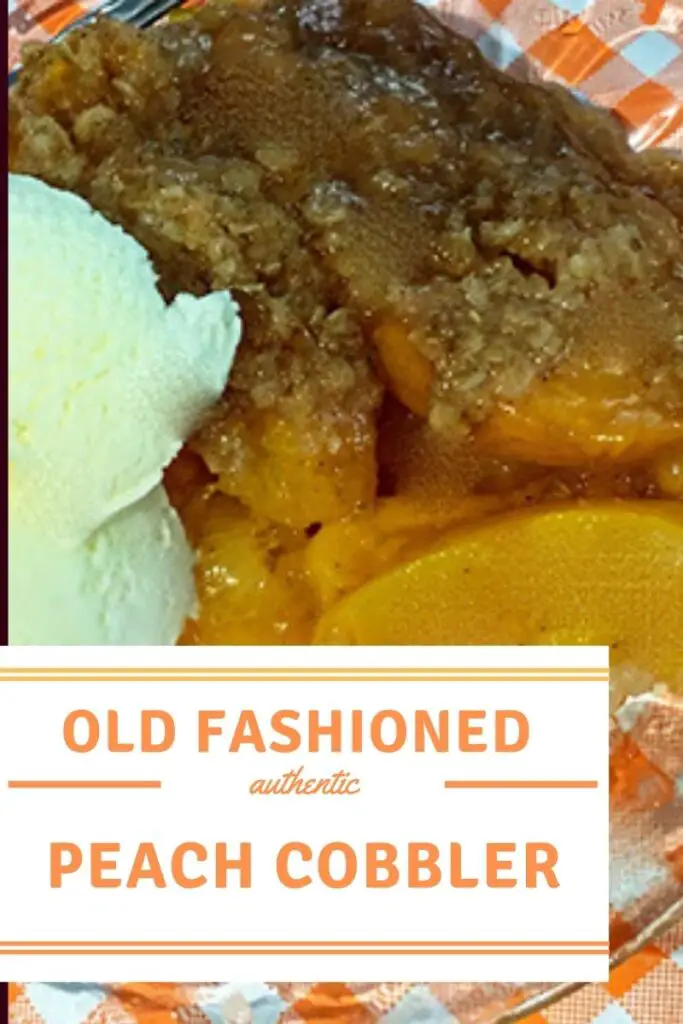 Check out another great recipe for our Stacked High Apple Pie – It is the best apple pie EVER! https://bakerstreetliving.com/grandmas-stacked-high-apple-pie/
---
Nutritional Infomation for Old Fashioned Peach Cobbler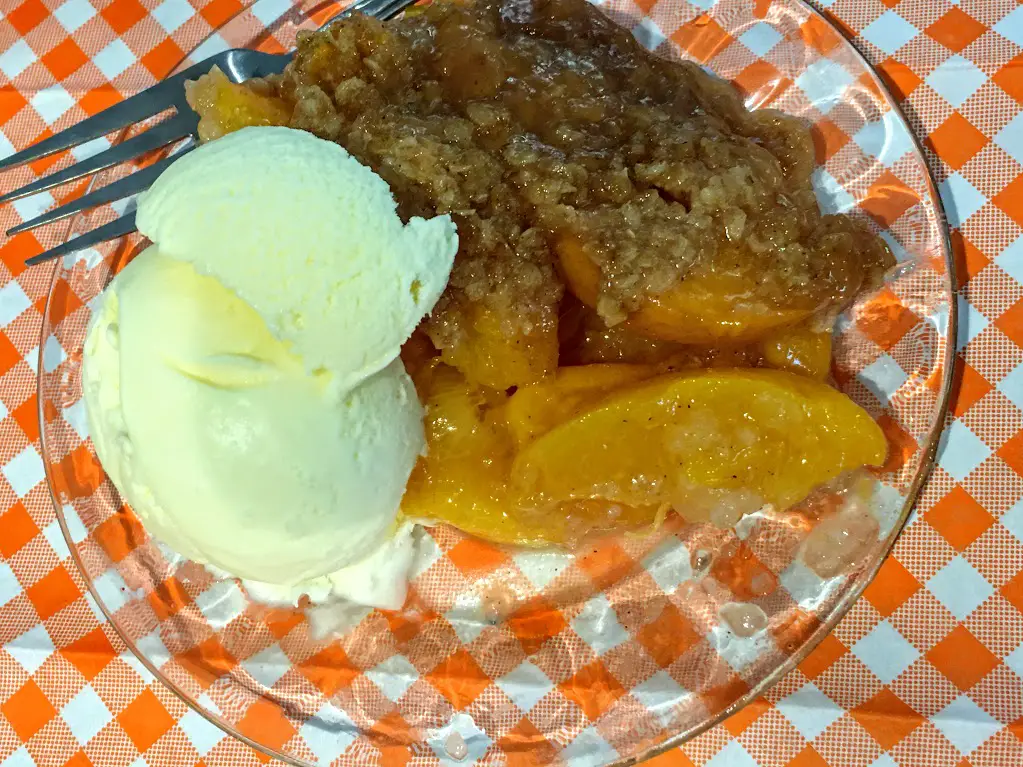 Thanks for vising Baker Street Living. Happy Baking!
This site contains affiliate links to products. We may receive a commission for purchases made through these links. Commissions allow us to continue to create new recipes and craft ideas. Thank You for your support.