As cool weather is near, we love to get back to some of our favourite comfort food. Salisbury Steak is at the top of the list. It is budget-friendly with the ground beef base but packs full flavour in every bite when accompanied with Salisbury steak gravy and our onion-infused mashed potatoes. Who doesn't love budget-friendly meals?
Salisbury Steak is traditionally served with mashed potatoes. We like to amp up our mashed potatoes by giving them an infusion of onion. Add a steamed vegetable, such as green beans or broccoli and you have a top-notch comfort food meal.
This website contains affiliate links. As an affiliate, I earn a small commission from qualifying purchases (at no cost to you).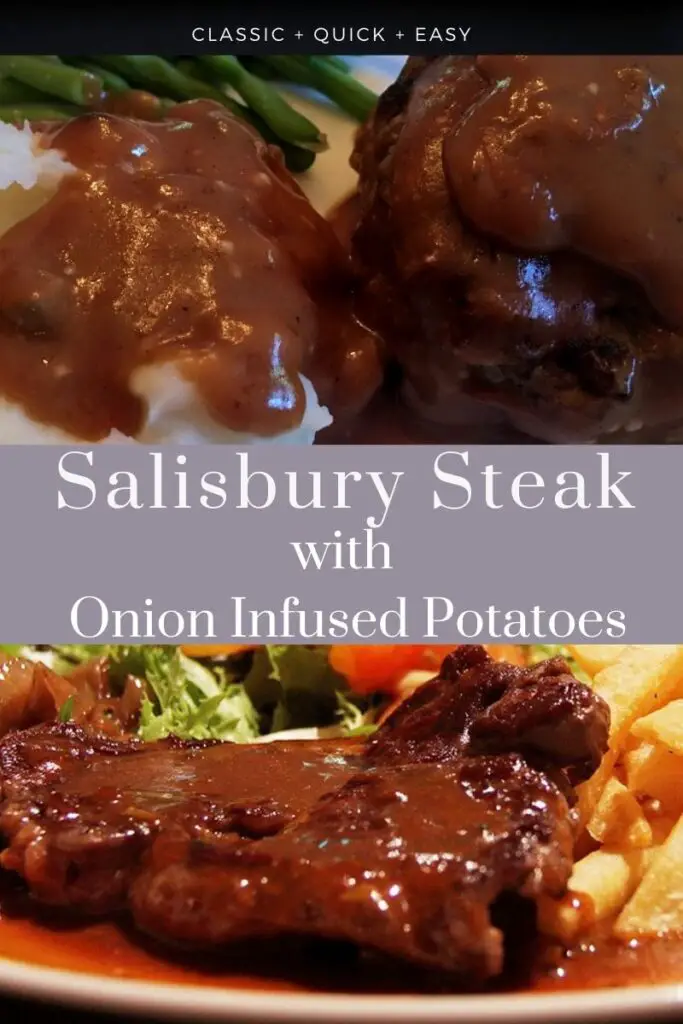 Jump to Recipe
In our kitchen, we like to use cast iron whenever possible. The heat seems more even and it keeps your food hotter for longer. The cast iron reheats much quicker, simply because it holds the heat longer. The more you use cast iron the more flavorful your food will be. It is also attractive for serving. This Salisbury Steak recipe can be served in a large skillet. It looks nice on the table and as mentioned, will keep your food hotter for longer.
Sometimes people are intimidated by cast iron because of the need to season the pan. Seasoning is actually quite easy.
To season, you just put some oil in the pan and then bake it for an hour at 350° F. We use canola oil. We put a little in the pan and wipe it around with a paper towel and then put it in the oven, with cooking time set for 1 hour and leave it. It is definitely worth it.
Cast iron is also heavier than a traditional skillet and there is no lighter option. Personally, we like the nice heavy pan.
Clean your cast-iron skillet pan with a chain maille scrubber. These work amazing. Once you use one, you'll never go back!
The last comment I've heard from people is that cast iron can be very expensive. Yes, it can! But… If you invest in a good quality pan it will last a lifetime. That is the honest truth! We find that non-stick skillets don't have a very long life span. We have probably gotten new non-stick skillets at least once or twice per year but our cast iron set is at least 15 years old and still like new.
Grocery List for Salisbury Steak
ground beef
egg
panko crumbs
yellow mustard
salt
garlic salt
black pepper
onion
beef gravy
mustard powder
Worcestershire sauce
ketchup
Supplies needed for the Salisbury Steak recipe and prep
Follow us on Pinterest and get more great recipes and everyday inspiration https://www.pinterest.ca/BakerStreetLiving/_created/
Noteworthy Kitchen Tip: place a wet cloth or wet paper towels folded under your cutting board on the counter. It will keep your cutting board from moving while chopping
Recipe for Traditional Salisbury Steak
Traditional Salisbury Steak
A delicious traditional Salisbury Steak recipe, served with an onion infused mashed potatoes.
Ingredients  
11/2

pounds

Lean Ground beef

1

medium sized Onion – finely chopped

1

egg

1/2

cup

Panko crumbs

1/4

tsp

salt

1/4

tsp

Garlic salt

1/8

tsp

ground Black pepper

1

tbsp.

Yellow mustard
Sauce Ingredients
2

cups

Beef gravy

1/2

cup

Ketchup

1/3

cup

water

1

tbsp.

Worcestershire sauce

1

tsp

yellow mustard powder
Instructions 
Using a cuttng board, finely chop a medium sized onion.

In a large mixing bowl, combine,, ground beef, onion, panko crumbs, egg, salt, garlic salt, ground black pepper and, mustard.

Mix well until all ingredients are thoroughly combined.

Form into 6 round or oval shaped patties.

In a large skillet, brown the patties on both sides.

When cooked through, remove the patties from the skillet and set aside on a plate.

Leave all the bits from the patties int the pan.

Add all of the sauce/gravy ingredients to the pan and stir.

Bring the gravy to a boil and then reduce heat.

Carefully lift patties and place into the gravy.

Spoon gravy over the patties and reheat.
Making the Salisbury Steak -image steps
Onion Infused Mashed Potatoes
This is so easy and it gives a hint of onion flavour to the potatoes, which pairs fabulously with this Salisbury Steak recipe. The onion-infused mashed potatoes are a great side dish served with steak or BBQ ribs.
Shopping List for the Potatoes
potatoes
onion
milk
butter
salt
Onion Infused Mashed Potatoes Recipe
Onion Infused Mashed Potatoes
The onion infusion in this recipe is an easy way to change up bland mashed potatoes. Pairs perfectly with our Salisbury steak recipe,.
Ingredients  
8

large yukon gold potatoes

1

medium sized yellow onion

1

tbsp.

butter

1/4

cup

half and half cream

1/2

tsp

salt
Instructions 
Wash and peel potatos.

Cut potatoes into cubes and place in a medium sized sauccepan

Peel and finely chop the onion and add it to the saucepan.

Cover potatoes with water (Water should be about an inch over the potatoes)

Bring water to a boil , stirring occasionally to keep potatoes from sticking to the bottom of the pan.

Poke the potatoes with a fork and when they are soft, remove from the heat.

Drain the water from the potatoes and onions.

Put cooked onion and potatoes into a heat resistant mixing bowl.

With an electric mixer, whip the potatoes until they are nice and smooth (or use a potato ricer)
Image of Steps to making Onion Infused Mashed Potatoes
Don't forget to follow us on Pinterest and never miss a new recipe or inspiration for everyday crafting.
We hope you enjoy these recipes for two great comfort foods. Serve this Salisbury steak and onion-infused mashed potatoes with your favourite steamed vegetables or salad.
Thanks for visiting Baker Street Living.
This website contains affiliate links. As an affiliate, I earn a small commission from qualifying purchases (at no cost to you).