I am always looking for great summertime salad recipes. Broccoli is available year-round and makes a great broccoli salad. This is an awesome recipe to make and take along to any event. This Broccoli Salad recipe was given to me years ago by my husband's aunt. She is now in her nineties, and she still makes this. was her favourite to bring to family get-togethers, and pot lucks. Everyone loved its light and tasty flavour with a punch of sweetness.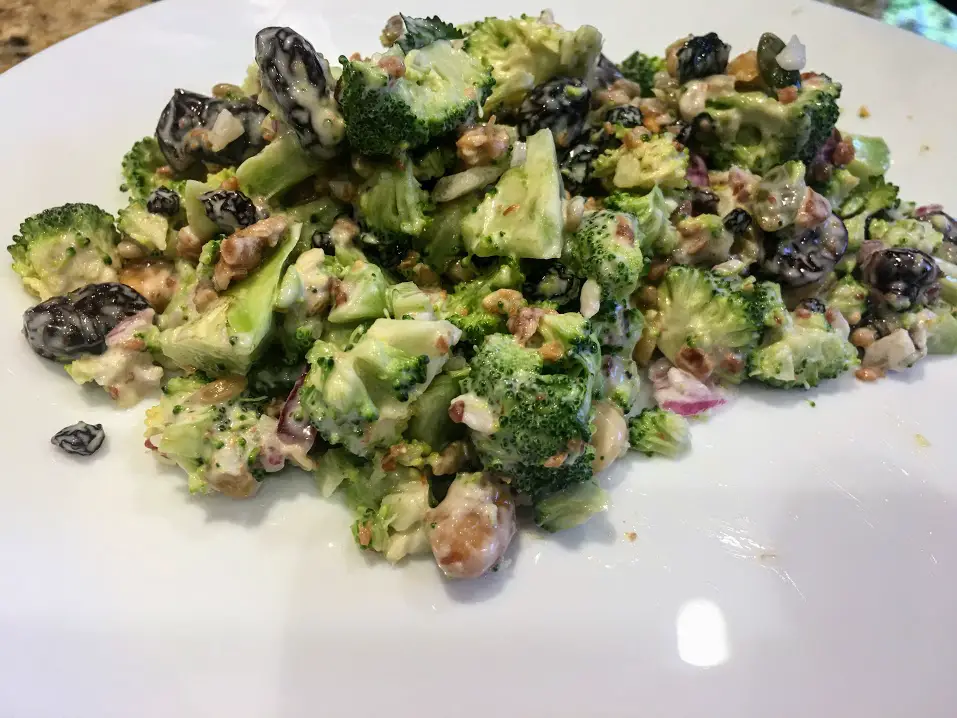 This Broccoli Salad recipe can be easily converted to a vegetarian version by removing the bacon. Feel free to substitute the trail mix for your favourite nut mix. If you are substituting the trail mix for other nuts and they are unsalted, add a pinch of salt to the recipe
Jump to Recipe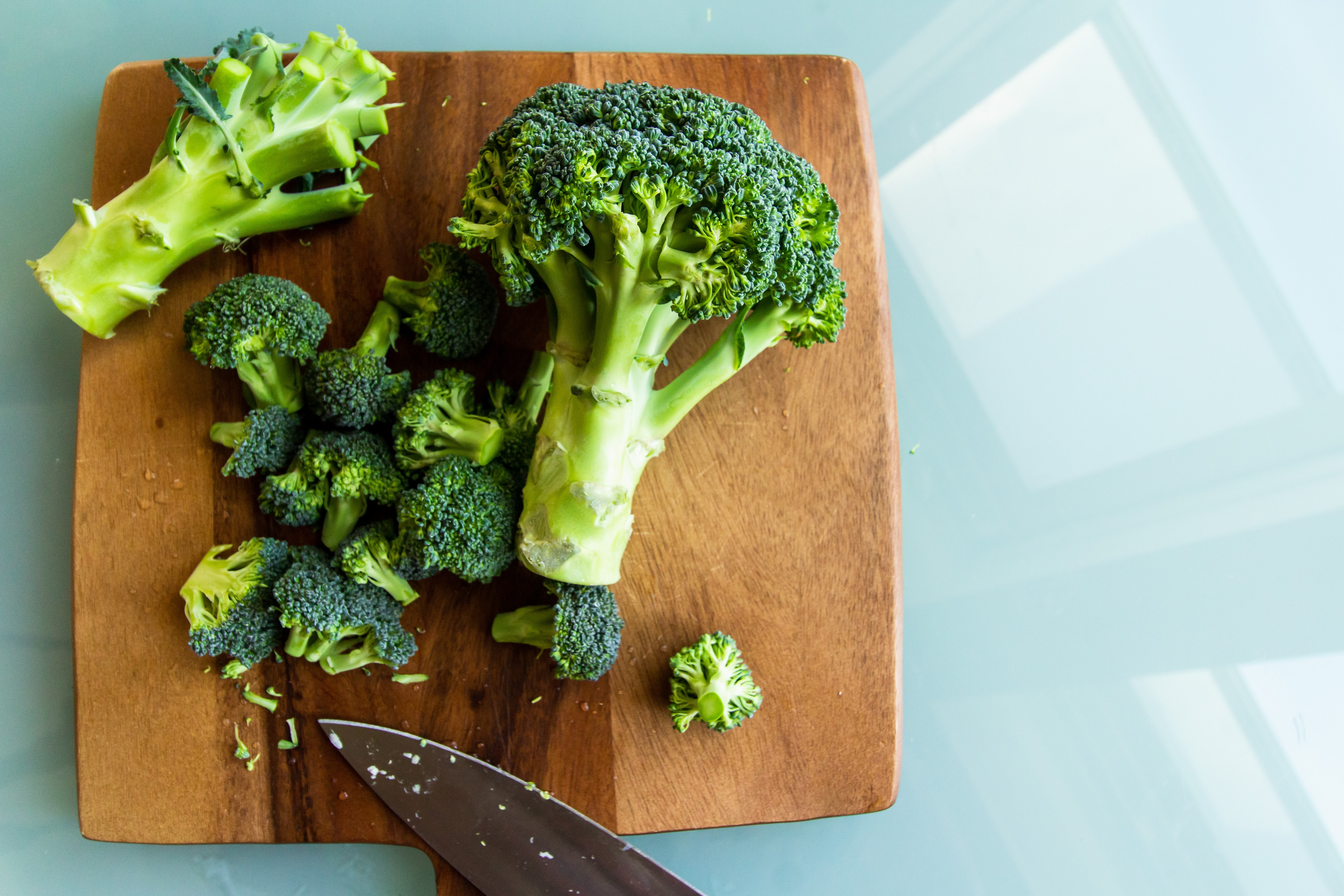 Shopping List for Broccoli Salad
Broccoli
red onion
trail mix
dried cranberries
bacon crumbles
mayonnaise
sugar
vinegar
How can you tell if broccoli is good when shopping?
When you are shopping for broccoli it is easy to choose the best quality if you know what to look for.
COLOUR – Look for broccoli heads that are a blue-green colour Avoid heads that have started to yellow or go brown.
FIRMNESS– the fresher the head of broccoli the crispier or firmer it will be. Avoid broccoli that is limp or feels rubbery.
STALK – the stream of the broccoli should be dense and moist looking. Avoid broccoli that has a dry stem or the base of the stalk is turning brown.
WEIGHT – The fresher the head the heavier it will feel. The longer it has been sitting, the more it has had a chance to dry out.
Can you use the stalks in this broccoli salad recipe?
As a general rule, I do not cut up the stalks as they can be too chunky for this recipe. However, they are perfect to add to stir fry recipes or soups. They are worth saving for other uses. they are low in calories and high in fibre which is certainly always a bonus.
How long does Broccoli last in the fridge?
Broccoli will last 4 or even 5 days on the fridge. If you aren't using it right away, keep it wrapped in plastic wrap in the vegetable drawer or use a vegetable storage container. To maintain as much of its water content as possible, wrap the ends of the stalks in water-soaked paper towels. The longer the broccoli is left the more it has a tendency to dry out and become limp.
Follow us on Interest for more great recipes and crafting life inspiration. https://www.pinterest.ca/BakerStreetLiving/_created/
Kitchen Supplies needed
Recipe and Instructions for Broccoli Salad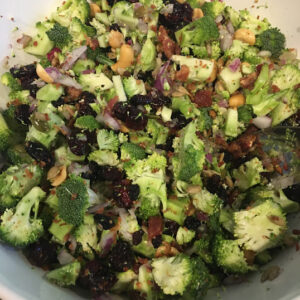 Broccoli Salad
This easy to make Broccoli Salad is the perfect side for ribs, steak, hamburgers, or just about anything off the BBQ.
Ingredients  
1

bunch

Broccoli ( 2 or 3 small heads)

1/3

cup

red onion, chopped

1

cup

Dried, sweetened, cranberries (Craisins)

1

cup

Trail mix (with sunflower seeds)

1/2

cup

crumbled bacon
Dressing
1/2

cup

mayonaise

1

tbsp

sugar

1

tbsp

vinegar
Instructions 
Wash Broccoli thorooughly

Remove lower part of broccoli stem and any leaves

Chop Broccoli heads into small pieces

In a large bowl, add cut broccoli, red onion, trail mix, cranberries, and crumbled bacon. Mix well
Dressing
In a small mixing bowl, add mayonnaise, vinegar, and sugar.

Pour dressing over broccoli salad mix and stir until well caoted.

Cover with plastic wrap and refridgerate for at least 2 hours before serving.
Images of steps in making pour Broccoli Salad.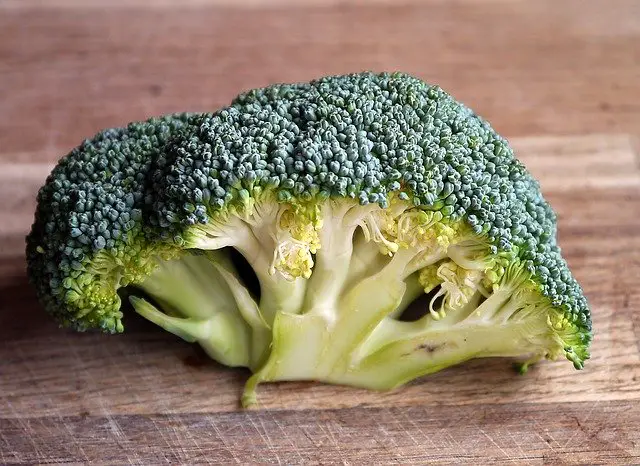 Check out four great summertime recipes using fresh cucumbers https://bakerstreetliving.com/how-to-make-4-delicious-summer-cucumber-recipes/
This is a great shareable salad. It pairs perfectly with hamburgers, ribs, or anything off the barbecue. It does contain mayonnaise, so be sure to store it in an airtight container in the refrigerator. This recipe can be kept in the refrigerator for a couple of days, but it will start to go watery if it is left for more than a couple of days. It is best enjoyed fresh.
Nutritional Value for Broccoli Salad

Enjoy!
Thank You for visiting Baker Street Living.
Disclaimer: This site contains affiliate links to products. We may receive a commission for purchases made through these links. Please be advised, we only recommend products that we have tried and currently use and value.