Strawberry Shortcake is always in season. This is the best Strawberry Shortcake recipe that I have used yet. Iy=t has been in our family for many years.
I've enjoyed many fresh berries right out of the field. They are the best when they are just picked. Seasonal desserts are always a favourite around our house. I can remember growing up always looking forward to rhubarb pie, strawberry shortcake, fresh beans, and cucumbers and the list goes on and on. I may have grown older but my enthusiasm for picking and enjoying whatever is in the season hasn't changed.
Whether you have your own strawberry patch, go to the local farmers' market, or shop at your local grocery store, strawberries are pretty readily available this time of year. If you can get local berries, they will always be better and why not shop locally as well. It's always good to support the community in which we live.
This website contains affiliate links. As an affiliate, I earn a small commission from qualifying purchases (at no cost to you).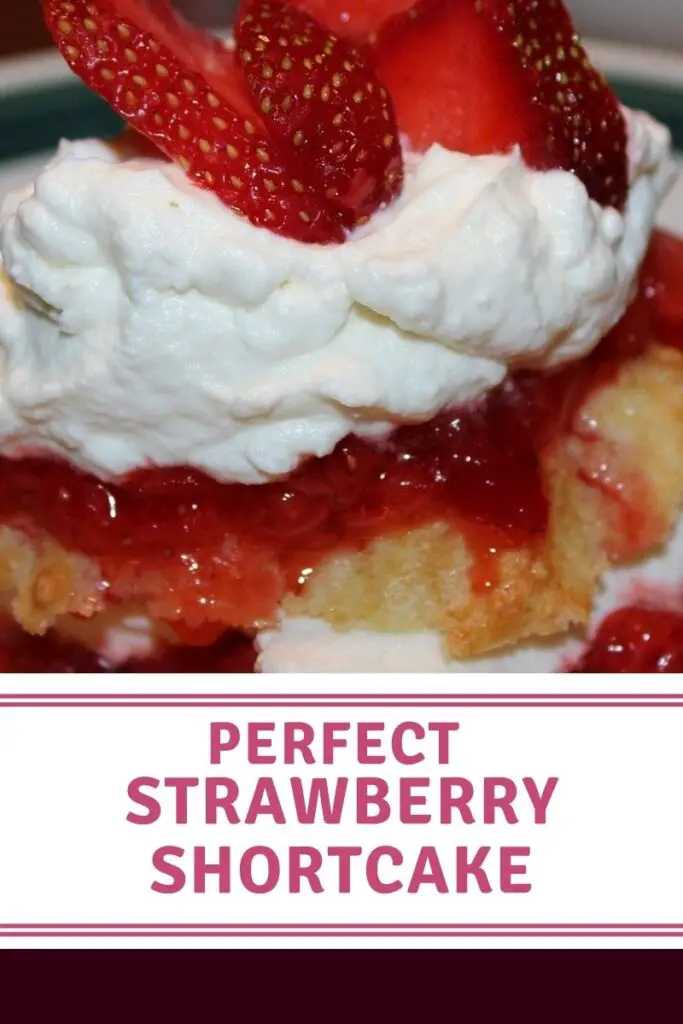 If strawberries are not grown in your area, or not in your local grocery store, there are often frozen varieties available in your freezer aisle.
Grocery List for making the best Strawberry Shortcake
butter
 granulated sugar
 vanilla extract
egg
 all-purpose flour
salt
 baking powder
skim milk
1 L container of Cool Whip (or similar product)
 Strawberries 1 quart – 8 cups
Tips for buying the Best Strawberries
f you are able to get your strawberries at a farmer's market, as opposed to a supermarket, they will be fresher. Strawberries do not have a long shelf life and at a farmers market, they are likely to have been picked more recently.
Look for strawberries that are bright red with no white spots. Many fruits when picked will continue to ripen after picking, but unfortunately, strawberries aren't one of them.
he tips of the strawberries are the last area to ripen, so if the tips are white, they are not quite ripe. You also don't want white around the stem.
Choose strawberries that have fresh green leaves. If the leaves are dry or have brown or black spots, keep looking.
If you are able to smell the strawberries, a nice ripe strawberry will have a strong, sweet strawberry smell.
If you are buying strawberries in a plastic container (clamshell), be sure to check underneath and as much of the inside as possible. Strawberries only last a few days and can get mouldy quickly.
The size of the strawberry doesn't mean it is any sweeter than the others. The only benefit is, that a nice large plump strawberry has a much nicer presentation than the small ones. I tend to try and pick medium-sized strawberries.
Choose strawberries that are firm but not hard. A soft strawberry or a strawberry with a soft spot is on the very of rotting. When they are soft, they have lost some of their flavours and will likely only last a day or two at best.
Kitchen Supplies needed for the best strawberry shortcake
Check out another fantastic strawberry recipe for Low-calorie Strawberry Cheesecake Squares
Strawberry Shortcake recipe
Summertime Strawberry Shortcake
Ingredients  
1/4

cup

butter

2/3

cup

granulated sugar

1/2

tsp

vanilla extract

1

large

egg

(room temperature is best)

1 1/2

cup

all-purpose flour

pinch

salt

2

tsp

baking powder

1/2

cup

skim milk

4

cup

Cool Whip

1L container – can use other brands)

6

cups

Strawberries – sliced
Strawberry Drizzle
2

cups

strawberries mashed

(Potato masher works great)

1

Tbsp

granulated sugar
Instructions 
In a small mixing bowl, cream together butter and sugar

Add egg and vanilla and beat well.

In a small bowl, whisk together, flour, baking powder and salt

In mixing bowl, alternate adding flour and skim milk, a little at a time, mixing in between additions Continue until mixed thoroughly. mixing well

Grease a 9 inch round cake pan

Pour mixture into the pie plate and bake on center rack in oven for 20-25 minutes.

Once baked ( check to make sure a toothpickl comes out clean), let cool on a wire rack.

Once cooled, slice horizontally and then cut into 8 trianglular pieces (like a pie)
Strawberry Drizzle
In a small saucepan add mashed strawberries and sugar and stir.

Bring to a boil and remove from heat, stirring to keep from burning.
Serve!
Place a bottom slice of cake onto a dessert plate. Spoon about 2 tbsp cool whip onto the piece of cake.

Spoon on 3 tbsp of sliced strawberries onto cool whip.

Place the top piece of cake onto strawberries and cool whip

Spoon 3 tbsp of Cool whip onto the top piece and top with 3 tbsp strawberries.

Drizzle 2 tbsp of strawberry drizzle over top
We hope you enjoy this delicious summertime dessert as much as we do.
Strawberry Shortcake Nutritional Values
Thank you for visiting Baker Street Living.