With Christmas and Thanksgiving right around the corner, it's time to start thinking about those awesome roast turkey dinners with all the trimmings. It's been a long-standing tradition with us to serve roast turkey with traditional harvest stuffing, potatoes, turnip, and more. If there is a lot of people then we might add a baked ham, but roast turkey is always the main item on our menu.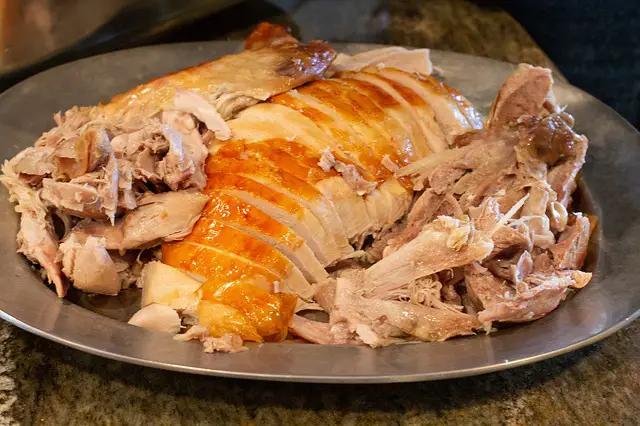 What you need to know to make the perfect roast turkey with traditional harvest stuffing
Choosing the right turkey
Fresh vs. Frozen
There should be no quality difference or taste difference between the fresh (refrigerated not frozen). The frozen turkey takes a considerable amount of time to properly thaw, so there will need to be planning ahead for the thawing process. Frozen turkey should be thawed in the refrigerator ahead of time.
The estimated amount of time to thaw a frozen turkey is approximately 24 hours for every 4 pounds. If you a purchasing a fresh turkey from a market, be sure you know how it has been stored and how old it is before buying it. Some markets take orders ahead from local turkey farmers and they ensure that the turkeys are fresh and refrigerated until you arrive to pick it up.
Thawing in cold water – you can significantly cut the thawing time by using a cold water bath. For example, a 10-pound turkey takes approximately 2 days to thaw in the refrigerator but can thaw in approximately 5 hours in a cold water bath. If choosing this method, It is important to keep an eye on it and remove it when thawed and then refrigerated until cooked. Do not let it sit in the water after it is thawed.
Quick thawing guide
Weight
Thawing time in
refrigerator
Thawing time in
cold water bath
6-12 pounds
1 -3 days
2 – 6 hours
12-16 pounds
3 – 4 days
6 – 8 hours
16 – 20 pounds
4 – 5 days
8 – 10 hours
20-24 pounds
5 – 6 days
10 – 12 hours
Size of Turkey
The general rule for how much or how big of a turkey you need is approximately one pound per person. this is for an unstuffed turkey. You can purchase a pre-stuffed frozen turkey and obviously you would need more to account for the stuffing weight. We have never tried a pre-stuffed turkey as we prefer to make our own stuffing and have a more traditional-style turkey.
Grade A vs. Utility
There should be no difference in taste but there are no guarantees. Grade A turkeys are usually more rounded with a uniform shape, meatier and have more even fat content. Utility turkeys can have minor skin tears and have one or more parts missing. Turkeys are graded on appearance so the quality of the cooked turkey should be comparable.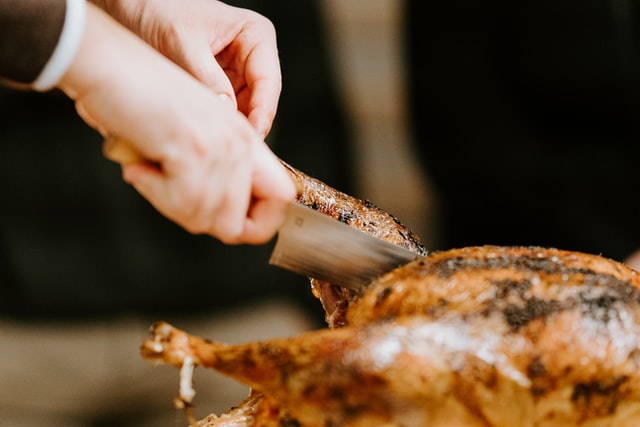 Free-range or non-free-range.
Free-range just means that the turkeys have been able to roam outdoors. The ability to be more mobile means that the turkey is more muscular and that results in more flavourful meat. some people confuse free range with organic but there is definitely a difference.
Organic Turkey
Organic means that the turkey has not been fed chemically processed foods or fillers. These turkeys will also likely have access to the outdoors and sunlight and more mobility. These turkeys will have darker skin and meat colour and will be the most favourable of all turkeys.
Self-basting, Butter infused and Butter Basted
Any of these three types of turkey are either rubbed with a butter/oil coating or had fluid (butter or oil) injected into the turkey. The expectation is that the turkey will be more tender and juicier. You can, however, prepare the turkey with butter and spices on your own. We like to start with a fresh turkey and look after the whole process ourselves, choosing the spices and stuffing ourselves.
Having said that, any of these types will definitely be a nice moist turkey when roasted, as long as you prep and roast properly.
ROAST TURKEY HACK
When placing your turkey in the roasting pan, place it breast side down. Most traditional recipes say breast side up but we find the turkey to be much juicier if the breast side is down. The juices from the turkey will run down into the turkey breast during cooking and therefore be less dry. If you find that the stuffing appears to fall out a bit when breast side down, place a small piece of foil over the opening.
Steps in preparing and roasting the perfect roast Turkey
Rinse the turkey inside and out with cool water.
Pat the turkey dry.
Fill the cavity of the turkey with the stuffing. If there is enough also fill the neck cavity as well.
Cross and Secure the turkey legs under the skin
Mix a 1/4 cup of room temperature butter with 1 tsp of fresh thyme and 1 tsp of fresh rosemary.
Rub the entire turkey with the butter mixture, covering the whole bird.
in a large roasting pan place the turkey breast side down.
Add 3 cups of chicken broth into the bottom of the pan. (add more during roasting if needed)
Cover the roasting pan with tin foil and roast according to a specified time for the size of the turkey.
Periodically bast the turkey with turkey baster.
Cook turkey until internal temperature (use a thermometer to check) reaches 180 °F (for unstuffed 170°)
Let rest for about 15 to 20 minutes before carving.
Roasting time guide
The oven temperature should be 325 degrees F )(175 degrees C)
| | | |
| --- | --- | --- |
| Size | Stuffed | Unstuffed |
| 8-12 | 3 – 3 1/2 hrs | 2 1/2 – 3 hours |
| 12 – 14 lbs | 3 1/2 – 4 hrs | 3 – 3 1/2 hours |
| 14 –18 lns | 4 – 4 1/2 hrs | 3 hr 56 mins – 4 hrs 15 mins |
| 18 – 20 lns | 4 hrs 15 mins – 4 hrs 45 mins | 4 hrs 15 mins – 4 1/2 hrs |
| 20 – 24 lbs | 4 hrs 45 mins 0 5 hrs 15 mins | 4 1/2 – 5 hours |
Kitchen supplies needed for the perfect Roast Turkey and traditional harvest stuffing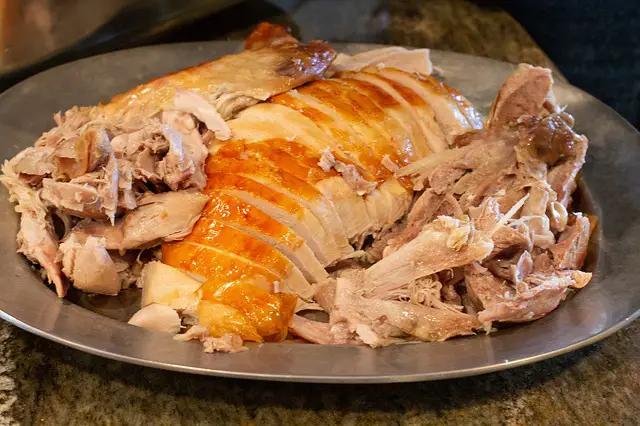 Recipe for Harvest Stuffing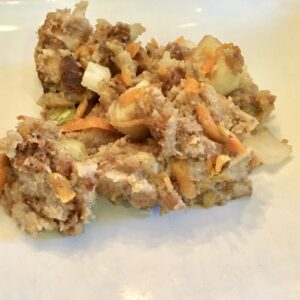 Harvest Stuffing
A traditional stuffing to complement the perfect roasted turkey.
Ingredients  
3/4

cuo

grated Carrot

1/2

cup

chopped onion

3/4

cup

celery , finely chopped

2

cup

apple, chopped into small pieces

1/2

cup

dried cranberries (optional)

8

cups

cubed bread pieces (about 1 loaf)

1

tsp

poultry seasoning

1/2

tsp

salt

1/2

cup

butter

1/4

tsp

ground cinnamon

1

tsp

garlic plus seasonong

1/4

tsp

black pepper

3/4

cup

chicken broth
Instructions 
Cube bread into a large mixing bowl.

In a medium sizeed skillet melt butter.

Add onion, carrot and celery and cook until tender. (not brown)

Stir in cinnamon, garlic plus, poultry seasoning, salt, and pepper

Add cooked vegetables to large mixing bowl with bread and stir to combine.

Add cranberries and cubed apple and broth and toss gently until mixed.

Drizzle with chicken brother to moisten the stuffing mix.

Fill the cavity of the turkey with stuffing. – fills approximately one 10 pound turkey.
Want to make the perfect pumpkin pie to go with your perfect roast turkey – check out our easy to follow recipe here https://bakerstreetliving.com/make-aa-easy-fabulous-pumpkin-pie100-percent-from-scratch/
Image Recap Instruction Gallery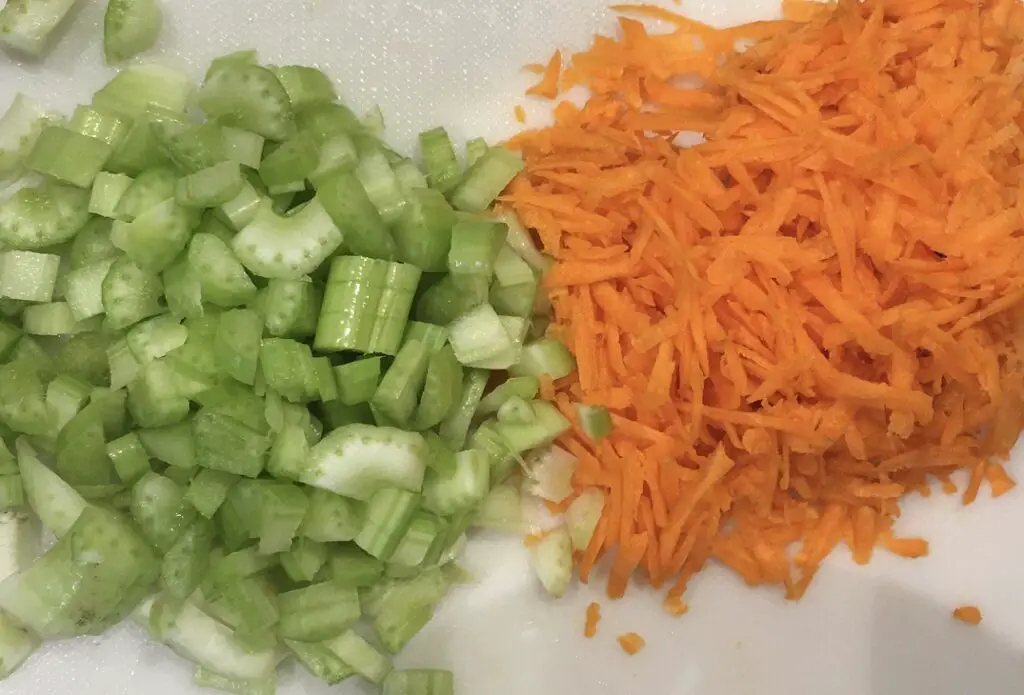 Don't forget to follow us on Pinterest for more great recipes and inspiration. https://www.pinterest.ca/BakerStreetLiving/_created/
Thanks for visiting Baker Street Living.
Disclaimer: This post contains affiliate links. We receive a small commission when purchases are made through our links. Thank you for your support.