It's no secret that strawberry cheesecake can really pack in calories, fat, and carbs. This recipe for low-calorie, low carb Strawberry Cheesecake squares offers a healthy alternative to the sugary version.
With the strawberry season right around the corner, it's a great time to whip up the recipe. It is a diabetic-friendly version that the whole family can enjoy.
This recipe uses Walden Farms, 0 calories, 0 carbs, 0 fat strawberry syrup. The Walden farms products are a great addition to any kitchen and can be used in many recipes to reduce sugar and calorie intake.
Where to get Walden farns Syrup.
Recipe for Low-Calorie Strawberry Cheesecake squares
Low Calorie Diabetic Friendly Strawberry Cheesecake squares
easy to mnake and low calorie – low carb Strawberry cheesecake square. Perfect for anyone watching calories or diabeticcs
Ingredients  
1/2

c

1/2C graham crumbs

2

tbsp.

canola oil

1

tbsp.

Splenda

8

oz

package of light cream cheese, softene

3/4

cup

plain non-fat yogurt

1

egg

1

egg white

1/4

cup

Splenda

1

tsp

vanilla

extract

1CUP

raw strawberries.

1

cup

Walden Farms, 0 calorie,0 Carb strawberry syrup
Instructions 
n a medium-sized mixing bowl, combine the graham crumbs, canola oil, and 1 tbsp Splenda. Mix thoroughly until sticky.

Spray bottom and sides of an 8 by 8 inch bakingng dish with a nonstick cooking spray.

Spread the crumb mixture into the bottom of the baking dish.

Bake for 10 minutes at 350°F

Let crust cool, while preparing the filling
Filling
In a medium-sized mixing bowl, add cream cheese and beat on low speed for about one minute

Add the yogurt, egg, egg white, Splenda, and mix on low speed until thoroughly mixed

Add the vanilla and mix for another minute. the filling should be creamy.

Pour the filling over the cooled crust and spread evenly in the pan.

Bake in 350°F oven for 25 minutes or until firm. Top should not be brown.

Let sit until cooled slightly and then refrigerate for at least 2 hours
Strawberry Topping and sauce
Thinly slice strawberries.

n a small saucepan add strawberries and Walden Farms strawberry syrup. Heat until it starts to simmer and remove from heat. let cool slightly.

When cheesecake has chilled completely,, cut into 2 inch squares

Using an offset spatula, , place a square on a dessert plate and spoon on some of the strawberries and drizzle with sauce.
Helpful tips for buying Strawberries
If it is strawberry season, the best place to get strawberries is at a local farmer's market or strawberry farm.
If you have the energy and have access to a pick-your-own farm, that is truly the best choice!
Strawberries are usually available year-round in supermarkets. Here are a few handy tips to get the best ones off the shelf
Colour – Look for strawberries that are a nice bright red colour. Unlike other fruits, strawberries stop ripening after being picked.
Size – size really makes little to no difference, but plumpness does. you want to choose a nice plump strawberry. The plumper it is the juicier it will be.
Skin – Make sure that there are no soft spots of mould. Often in the clamshell packs mould will develop in between the layers. I always open them and check in the middle before I buy them.
Leaves and stem – Generally in the supermarket the only visible leaves will be on the top of the strawberry. make sure the leaves are not dry, curling or turning brown. That is an indication that the strawberries are old.
Whiteness on the strawberries. If the tips or the tops of the strawberries are white, that means that they were picked before they were fully ripened. The flavour will be less intense and the berries will not be juicy.
Learn how to freeze strawberries in 3 easy steps. Check out our easy-to-follow post.https://bakerstreetliving.com/how-to-to-easily-freeze-strawberries/
Garnishing the low carb strawberry cheesecake squares.
I like to used fresh strawberry slices to garnish my squares. To get the perfect slices, I use a strawberry sliced. It is very handy for getting nice even slices.
It is best if the cheesecake is completely chilled and the strawberry sauce is warm, but not hot.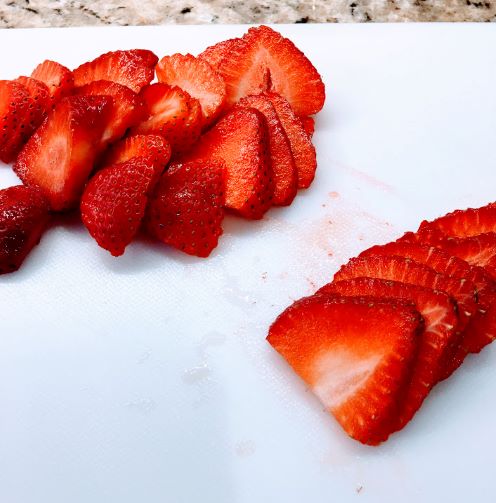 Storing your Strawberry Cheesecake Squares
Store your squares in the refrigerator for up to 4 days in an airtight container. It is best to store the sauces separately from the squares and add sliced strawberries when serving.
Nutritional Value for Low carb Strawberry Cheesecake Squares

Using other fruit with this cheesecake squares recipe
Easily replace the strawberries with other berries. This recipe works well with, raspberries, blueberries, b blackberries and black raspberries.
Walden Farms syrups are also available in a raspberry fruit spread and in Blueberry syrup flavours.
Keep in mind, substituting the fruit will alter the nutritional values listed here for the strawberry version of the cheesecake squares.
Thank You for visiting Baker Street Living.
Disclaimer: This post contains affiliate links. We receive a small commission when purchases are made through our links. Thank You for your support.