Cupcakes are the perfect shareable treat, especially for taking to classrooms and parties. These cute and easy-to-make valentine cupcake toppers will add a little extra special touch to your valentine cupcakes. These are a great addition to our Valentine's serving dish, made using waterslide paper.
These valentine cupcake toppers are made easily on a cutting machine. I am using a Cricut, but they can also be easily made without a cutting machine.
This project is compatible with other cutting machines, as it is not a Cricut-specific file. If you don't have a cutting machine, directions are posted below on how to make the valentine cupcake toppers without a cutting machine. (instructions below)
This website contains affiliate links. As an affiliate, I earn a small commission from qualifying purchases (at no cost to you).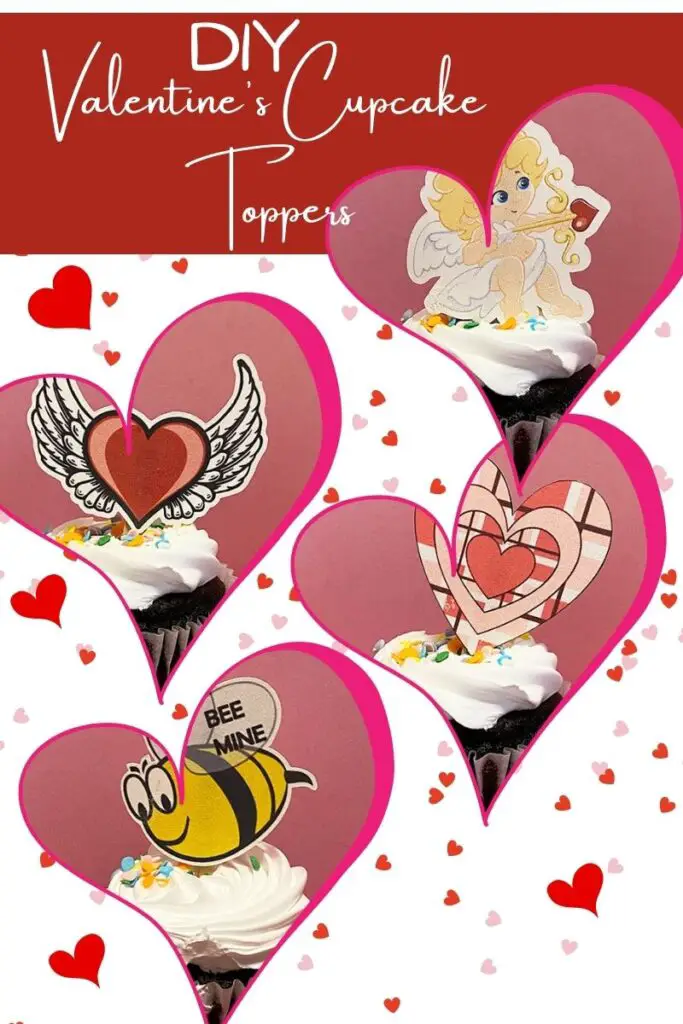 Supplies you will need for making the valentine cupcake toppers
Additional supplies needed if using a cutting machine
fine tip cutting blade (comes with machine)
Note – skewers for valentine cupcake toppers
You can use any small skewer, but I have found that the best ones are the flat paddle picks. They come in different sizes, but for cupcake toppers, I use the 3.5″ for most of my cupcake toppers. I also use flat-sided bamboo sticks. These both work well, as they have a flat side and allow for better glue application. If you are using the long skinny skewers from the dollar store, you can cut them, just be wary of splinters.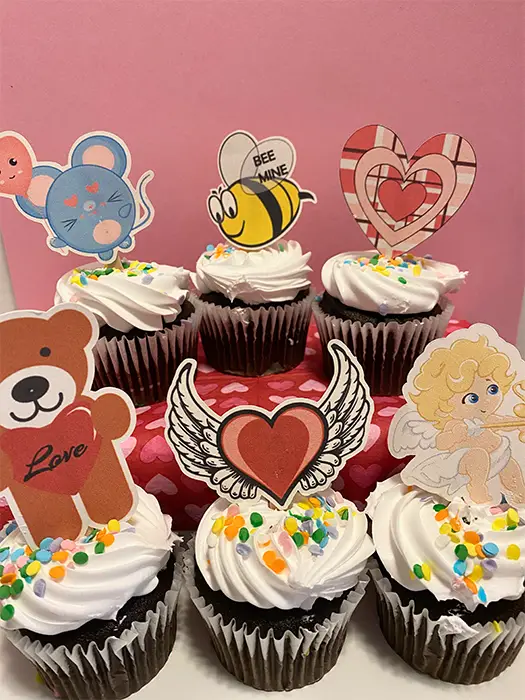 Instructions for valentine cupcake toppers – using cutting machine
Download the valentine cupcake toppers PNG files to your computer.
Open design space or your cutting machine program.
Choose "Upload"
Find the design for the valentine cupcake toppers that you saved on your computer and select it
Upload it into the Cricut design space
Choose Complex and continue ( you should not have to do anything here – just continue)
The cupcake toppers should load into design space
Resize according to your own preference.
Select "
make it"
sent the file to your printer. If you get a message saying the file is incompatible, you will need to resize the image. You can also rotate them if you are making them bigger.
Once printed, place the cardstock on the Cricut cutting mat (as shown on the make it canvas)
Load your mat into the Cricut matching
Select the material you are cutting. For double-sided valentine cupcake toppers – mirror the second set
Push the flashing light button or cut button on your cutting machine.
Remove the cardstock from the cutting mat.
Using the thin Cricut spatula remove your cut-outs from the cutting mat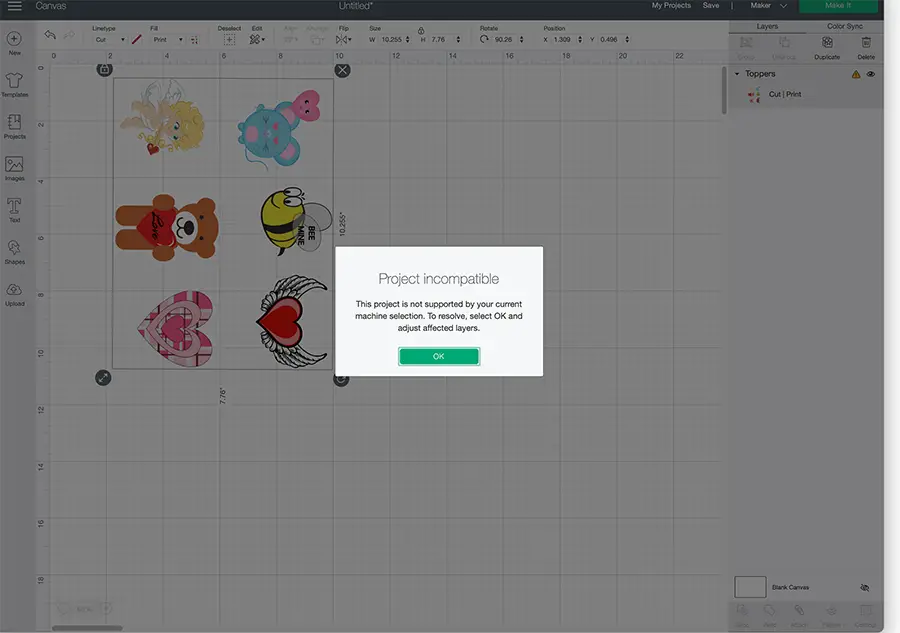 Follow us on Pinterest for more great crafting ideas, recipes and more. https://www.pinterest.ca/BakerStreetLiving/_created/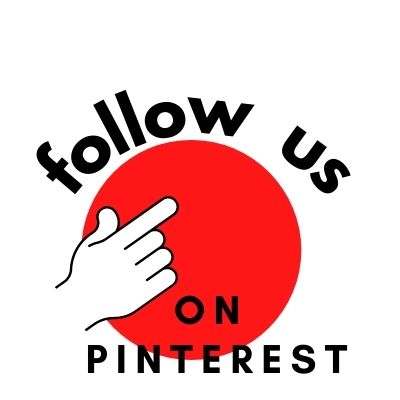 Print and Cut Valentine cupcake toppers files
I have provided single downloads as well as the full set. If you want to only make a certain one, this makes it much easier. Just select the one you want, size it and duplicate it.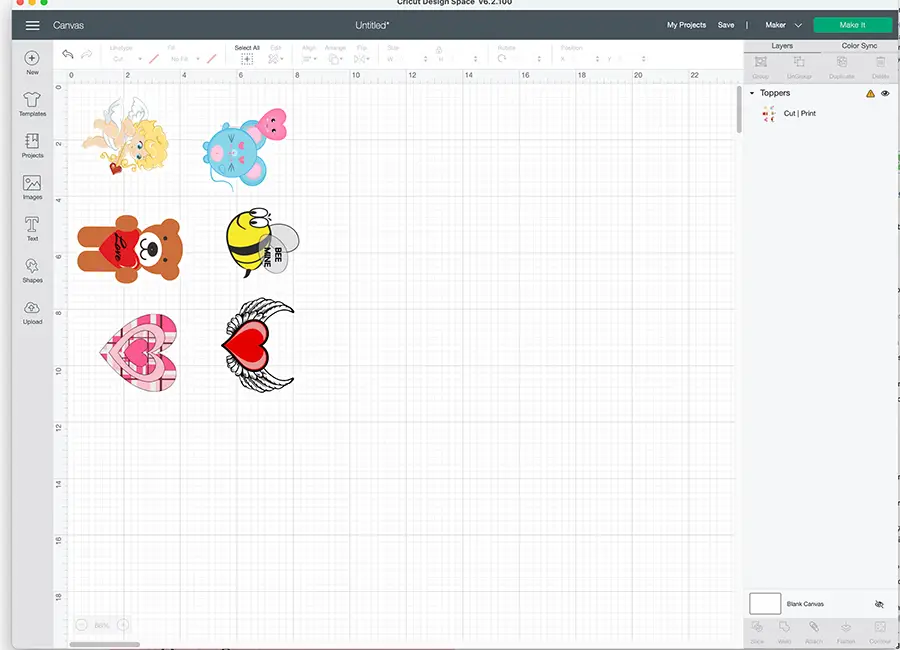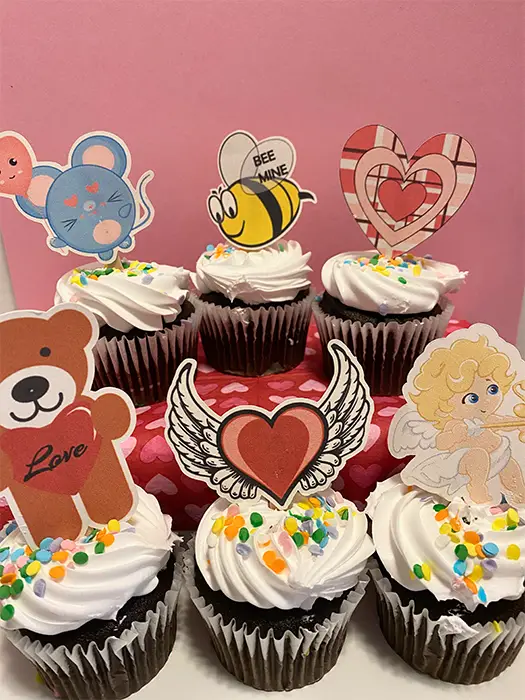 Download the files – HERE
Already have a password? ENTER the resource library and download your chosen files.
Get a password for the free resource library
Making the valentine cupcake toppers without a cutting machine
Download the files from our resource library that you wish to use.
Open a document program such as google docs or Microsoft office and start a new document.
Insert the images onto the document.
Continue until your page is full, leaving about 1/2 an inch around them for cutting.
When making double-sided cupcake toppers, make sure you reverse or mirror the second copy before printing.
Insert your cardstock into your printer and print.
Carefully cut around your images.
For double-sided valentine cupcake toppers, trim the shape once they are glued together on the skewer.
Gluing the valentine cupcake toppers together
On a clean flat surface, place your valentine cupcake toppers face down.
Apply a bead of glue onto the back where the stick will be placed.
Press the stick into the glue.
let dry.
For double-sided cupcake toppers
To make double sided toppers, you may need to cut a cirlce out and apply the topper onto the cirle3. The teddy bear and hears and the winged heart are easily made as double sided cupcake toppers, but the others will need a symetrical background
If the design is compatible for a two sided topper, when the glue is dry, apply a bead of glue onto the skewer as well as just inside the outer edges of the cutout.
Place the valentine cut out onto the top and position it in place, lining up the edges.
Glue in place and let dry.
If the design is not symetrical or compatible as a double sided design, cut out 2 circles and glue the skewer onto both sides, lining up the edges of the circle.
Glue the cut out onto both sides of the circle.
Let dry completely before placing it into the cupcake.
Variation of the Valentine Cupcake toppers.
The print and cut files provided can also be made into a print and cut sticker sheet or print and cut valentine cards. Add your own custom font and names and just print and cut.
Giving the cupcakes to classmates. How about custom-matched Valentine cards to go with their cupcake. Make the matching stickers to go with their cupcake. Too cute!
Make our cool Customized Valentine's plate using Waterslide Paper. Get the easy-to-follow instructions and design here.
Thanks for visiting Baker Street Living.
Disclaimer: This post contains affiliate links. We receive a small commission when purchases are made through our links. Thank You for your support.