Decorating for Christmas is always fun. It is always great to make and try new decorations every year. The price of decorations keeps going up and up, so this year we decided to do some more recycling. We made our DIY wood block nativity scene set using some wood 2 by 4's that were left over from a construction project.
In this post, we will show you how to make your own DIY wood block nativity scene set, give you tips on how to give your wood blocks a rustic look, and we will give you the SVG file that we used for our cut vinyl, which was applied to the wood. We will give you tips on where to find leftover wood (cheap or free) and we will tell you how to apply the vinyl onto the wood pieces.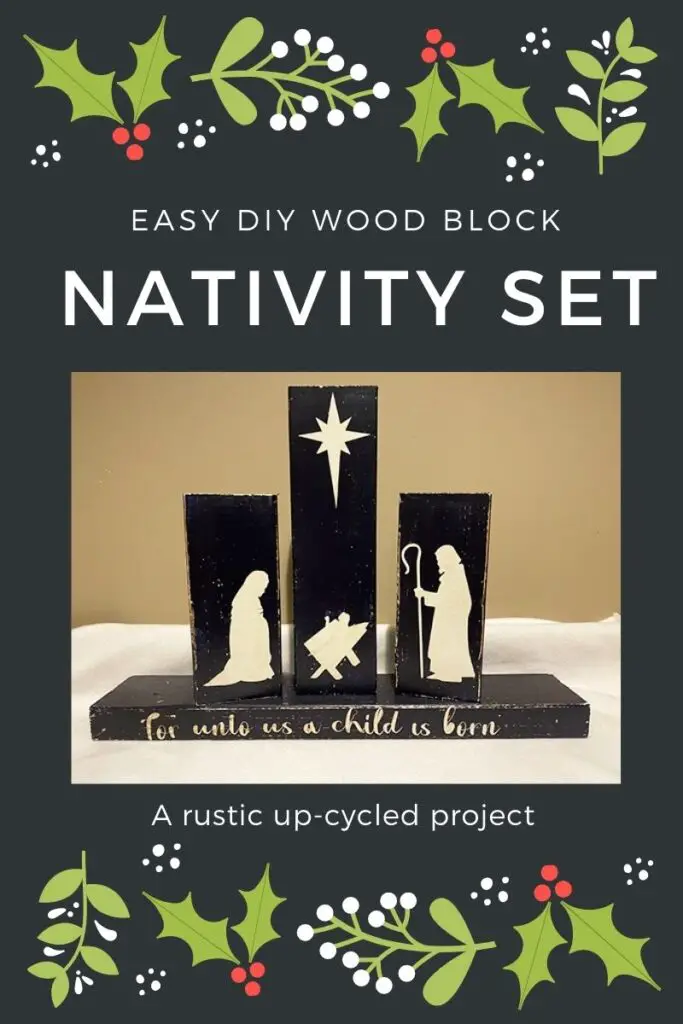 This website contains affiliate links. As an affiliate, I earn a small commission from qualifying purchases (at no cost to you).
Craft Supplies you need to make this DIY wood block nativity scene set.
Tools and Equipment needed to make a DIY Wood Block Nativity Scene set.
HTV vinyl is not recommended for this project, due to the painted surface. Getting the paint hot can cause bubbling and burning on the paint surface.
Where can I find scrap wood blocks?
If you have leftover wood from projects at home that can be cut to the right sizes, that is always the easiest and the cheapest.
If you don't have leftover wood available in your home, try the following places:
Contact a local builder or construction company.
Did you know that a lot of companies have dumpsters where the leftover wood and building supplies are put? Most builders are not saving scraps of wood. It is not cost-effective to sort through bits of wood for small pieces. These are often tossed out. Always ask first, and get permission to take the wood before you remove anything from a dumpster. Most building sites do not allow people on site without hard hats or safety gear on.
Many constructions companies have someone that is hired to go through the site and clean up debris, and leftover building materials. They are required in many places, to keep the job site clean and free of hazards (which includes leftover wood).
Always keep safety in mind, as construction debris can have shard pieces of metal, nails and other dangerous bits that you need to be wary of.
Contact local building and supply stores.
Home Improvement Stores, such as Home Depot, Lowes and other retail building outlets, do installations and sell cut wood. Sometimes people go into a store and ask to have a piece of wood cut to a specific length. That is the only piece of wood they want and they might leave the remainder behind. Some stores sell packages of wood ends or pieces, just like the fabric stores send bolt ends.
Contact stores that sell exterior building supplies, such as bricks and stone. many times orders are delivered on pallets or in large wooden boxes. Sometimes the boxes are discarded or sent out for scrap.
Look up local handyman businesses.
These businesses are often doing small projects such as bathrooms and renovations to the interior of a home. They, much like the builder, do not save the smaller pieces of wood, dues to the cost and time needed to use small pieces of wood.
Other types of businesses to ask.
Ask local woodworkers, furniture makers, cabinet makers or sawmills. Any business that uses wood in constructing or manufacturing products, has leftover wood.
Check online classifieds.
Check for a listing of people trying to get rid of leftover wood,. Places like Facebook Marketplace, Varage sale or Kijiji often have people advertising, leftover supplies. many are free to whoever can pick up and some are available for a small fee.
Always be sure to be cautious and safety-minded when buying anything online.
What wood you should avoid.
I don't recommend pressure-treated lumber for this project. It is soaked or injected with chemicals that are not recommended.
Do not use any lumber that has been treated for bugs, or animals, such as creosote coated boards.
Do not use wood that has been stored outside, as it may contain insects in the wood, that will work their way out of the wood into your home. It can also contain mould, that is not visible to you.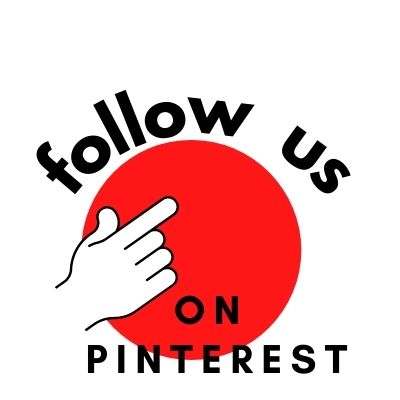 List of wood pieces needed for your DIY wood block Nativity Scene
You can choose which pieces you want to make and how big of a set you have. A basic display would consist of baby Jesus in the manger with the star above, Mary and Joseph and the bottom plank.
A fuller set would include the 3 Wisemen, shepherd, and animals.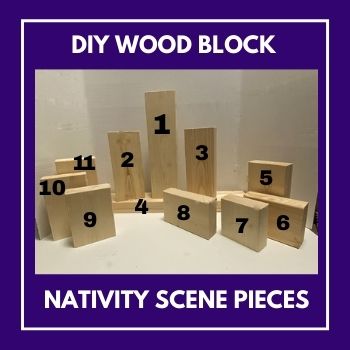 The set illustrated in the post includes:
#1 Baby Jesus in manger and star – 13 inches
#2. Mary – 8 inches
#3 Joseph – 8 inches
#4 Base – 20 inches
#5 Shepherd – 6.5 inches
#6 Angel – 4.5 inches
#7 Lamb – 4 inches
#8 Donkey – 6 inches
#9 Wiseman – 5 inches
#10 Wiseman – 6 inches
#11 Wiseman – 7 inches
#12 Camel ( not shown)
# 13 Cow (not shown)
OTHER GREAT RECYCLING PROJECTS YOU MIGHT LIKE
The Steps to make your DIY wood block Nativity Scene Set
Sand
Sanding should be done away from your vinyl and paint supplies. Preferably, sand outside or in a garage, if available.
Using a palm sander, sand any rough edges and burrs on the wood. Do not worry if your wood pieces are not perfect. This set will have a rustic look when you are done, and the imperfections add character to your finished set.
Apply a base coat of paint.
I am using a white acrylic paint base coat. This colour will show through on the corners and in some spots of your finished set after it is distressed.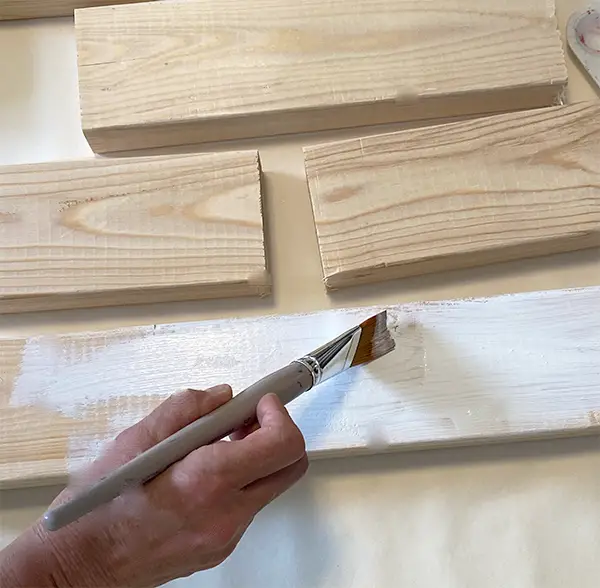 Allow the wood blocks to dry thoroughly.
Apply a top coat of paint.
I am using a shade of dark blue acrylic paint. This will be your finished colour. Apply a generous coat of paint. Once dry you can apply a second coat if it is not dark enough.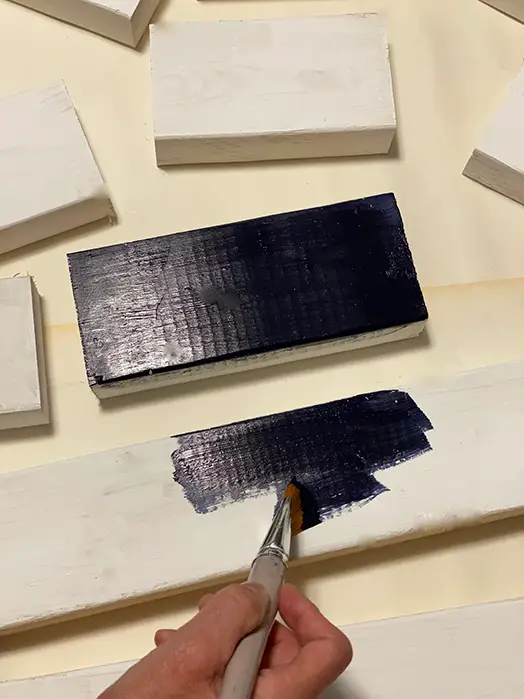 Once you have the colour you want, and it is completely dry, lightly sandy with brown craft paper. This just removes the rough paint texture and makes the surface feel soft and smooth. This is just a light motion and should not penetrate the layers of paint.
Download the DIY Wood Block Nativity Scene set design.
The designs are free for you to use. They are available in our free resource library.
A password is required to enter the library. If you don't have a password or have forgotten your password get one below.
Once you have downloaded the file, upload it into your cutting machine program. I am using Cricut Design Space and a Cricut Maker.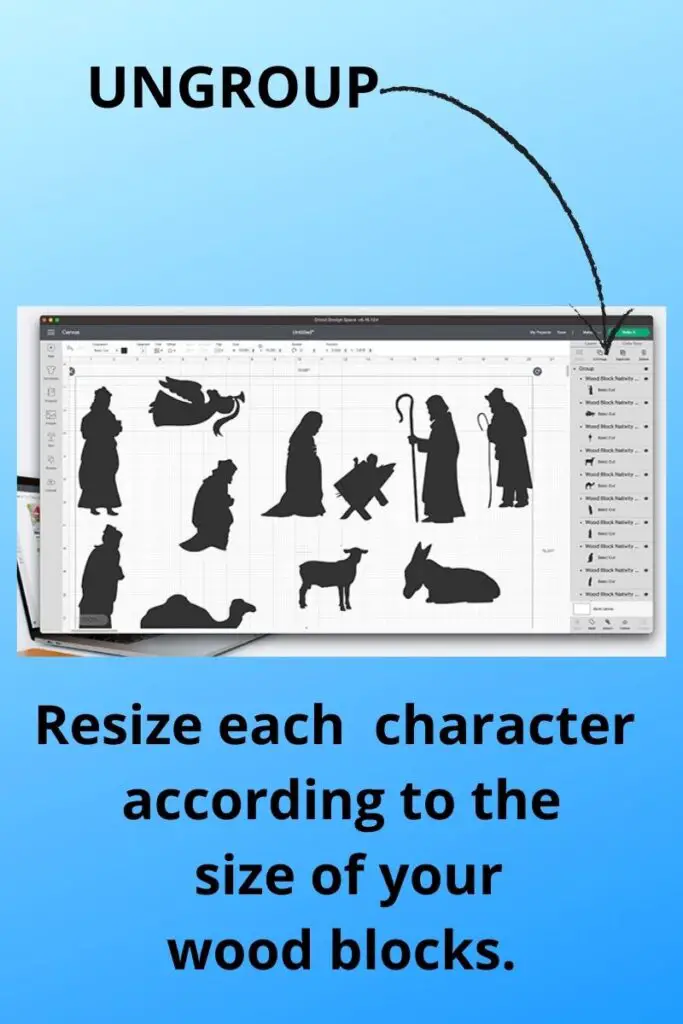 After uploading the design into your cutting machine program, ungroup and resize each piece according to your block measurements.
Cut the pieces for your nativity scene set.
My vinyl is white adhesive vinyl. These designs are not intricate and are easy to cut and weed.
When using the Cricut cutting machine, for this project, use a fine point blade and standard grip mat.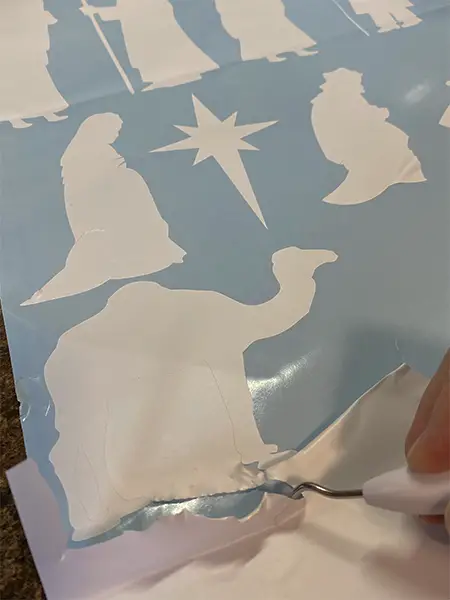 Cut the designs and weed, according to your cutting machine instructions. ( I used premium vinyl with "more" pressure)
If you are changing from a standard adhesive vinyl, and using glitter vinyl, flocked vinyl or any other choice, be sure to adjust the materials setting accordingly.
Distress the edges of your blocks.
Using the fine-grit sandpaper, sand around the edges of the blocks. You can sand a little or a lot, it is up to you. You will see areas of your white base coat showing through.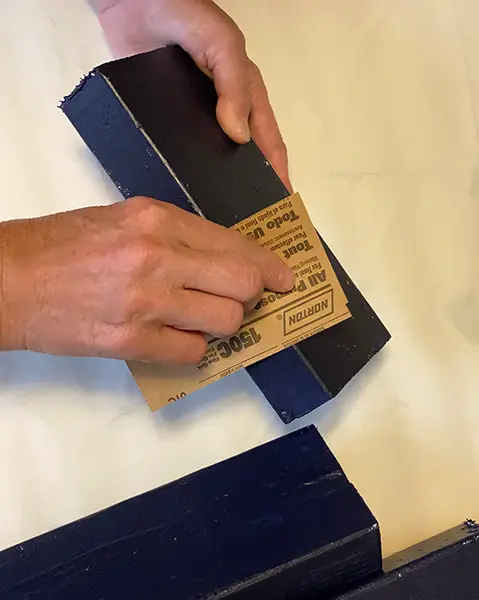 Once you have the desired effect, wipe off any loose dust, with a lint-free cloth or tack cloth.
Organize the cut designs
Once all of your designs have been cut and weeded, cut them into individual pieces and organize them with the appropriate blocks. This is a good time to check for size and make any changes, before adhering the vinyl designs to your blocks.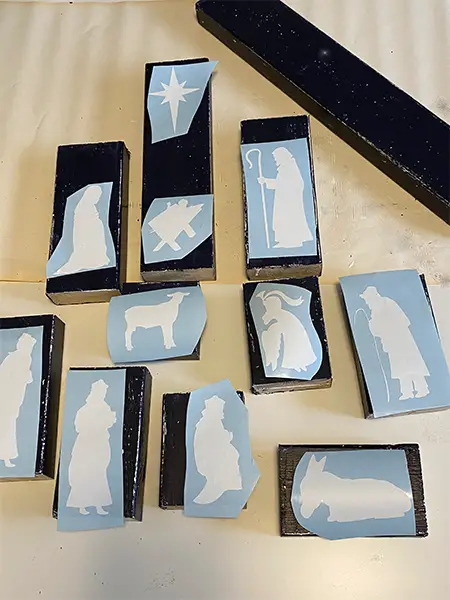 Adhere cut pieces to wood block
Make sure the woodblocks are completely dry and dust-free. Do not adhere adhesive vinyl to damp or wet paint.
Use a low-tack transfer tape. A strong bond or one that is very sticky can pull off some of your paint. ( I am using con-tact adhesive paper, as my transfer tape – it is a personal favourite)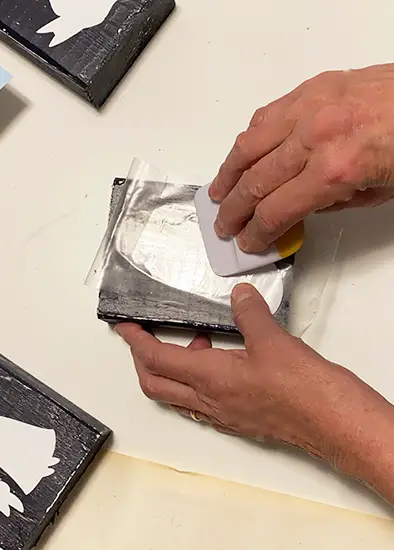 Smooth out and press down your adhesive designs.
Apply wax
This is optional. If you like the look, you can just leave them as is. Antique wax just deepens the colour and gives it a rich aged look. This look goes perfectly with the distressed look of the wood blocks.
To apply the wax, take a small amount on a lint-free cloth, and rub it gently onto the surface of your painted finish. Let it dry for 24 hours and then buff with a clean lint-free cloth. Lightly rub over your vinyl designs (if desired). See the image below for a comparison of waxed and unwaxed. It is difficult to see in the photo, but the waxed pieces have a low sheen and deeper colour.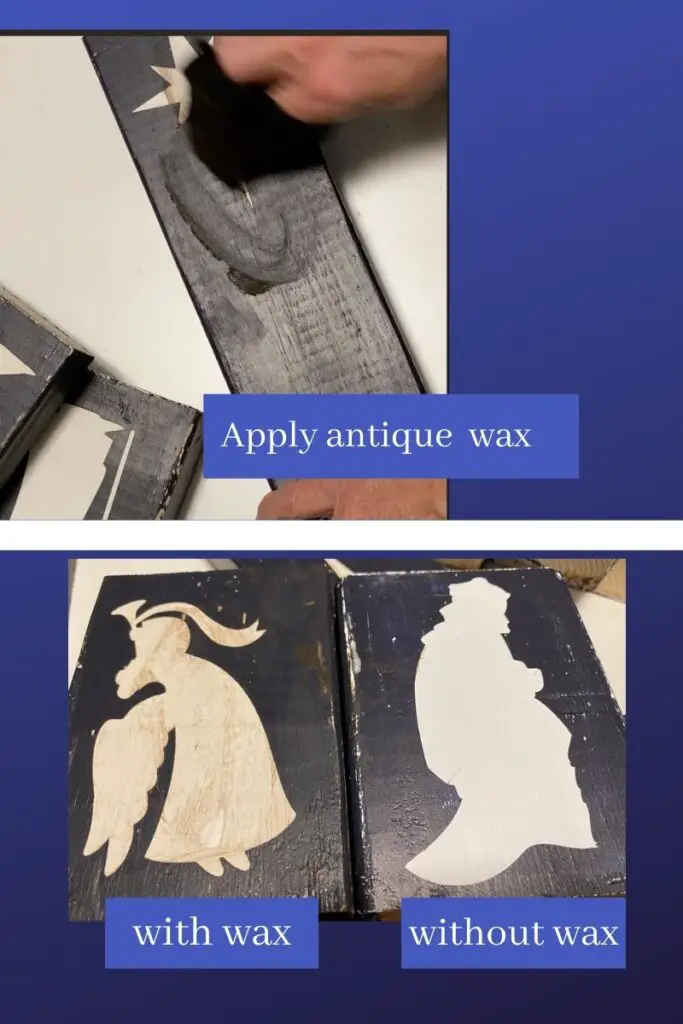 Vid4o tutorial of DIY Wood Block Nativity Scene
Set up your display and show off your DIY Wood Block Nativity scene set.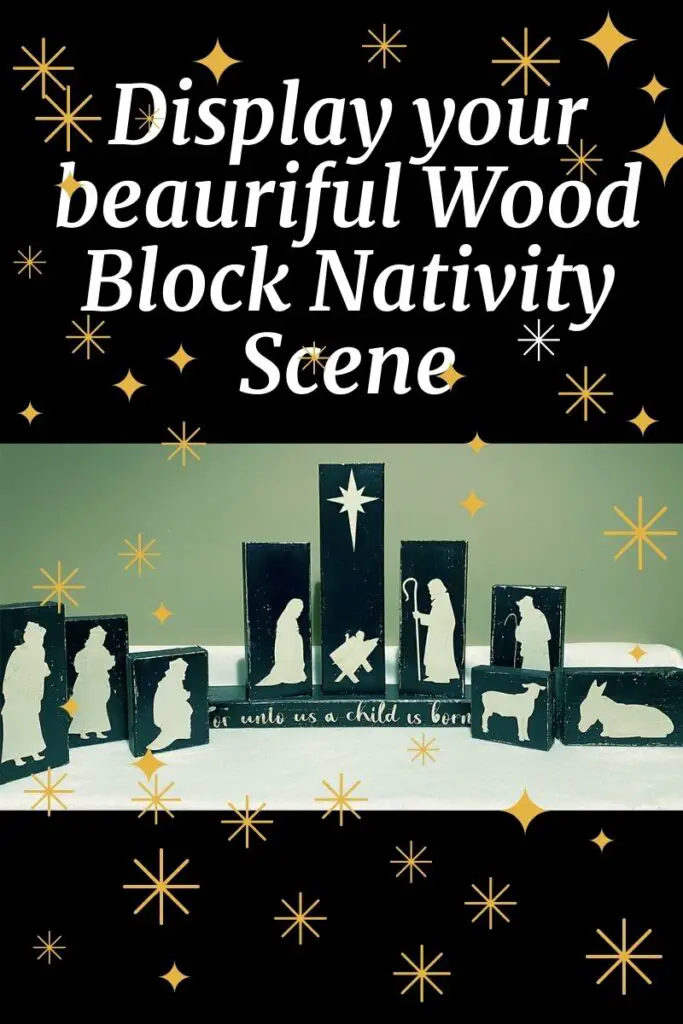 We hope you love another one of our great up-cycling craft projects. We love our DIY wood block nativity scene set.
Thank you for visiting Baker Street Living.
This website contains affiliate links. As an affiliate, I earn a small commission from qualifying purchases (at no cost to you).