This website contains affiliate links. As an affiliate, I earn a small commission from qualifying purchases (at no cost to you).
I'm working on making some Gnomes for decorations and was asked by someone how to make Gnome shoes and boots. I considered buying baby shoes and doll shoes but couldn't find exactly what suited my craft projects. They were always the wrong colour or the wrong style. So I did what all crafters do. I work all afternoon on coming up with a pattern I like.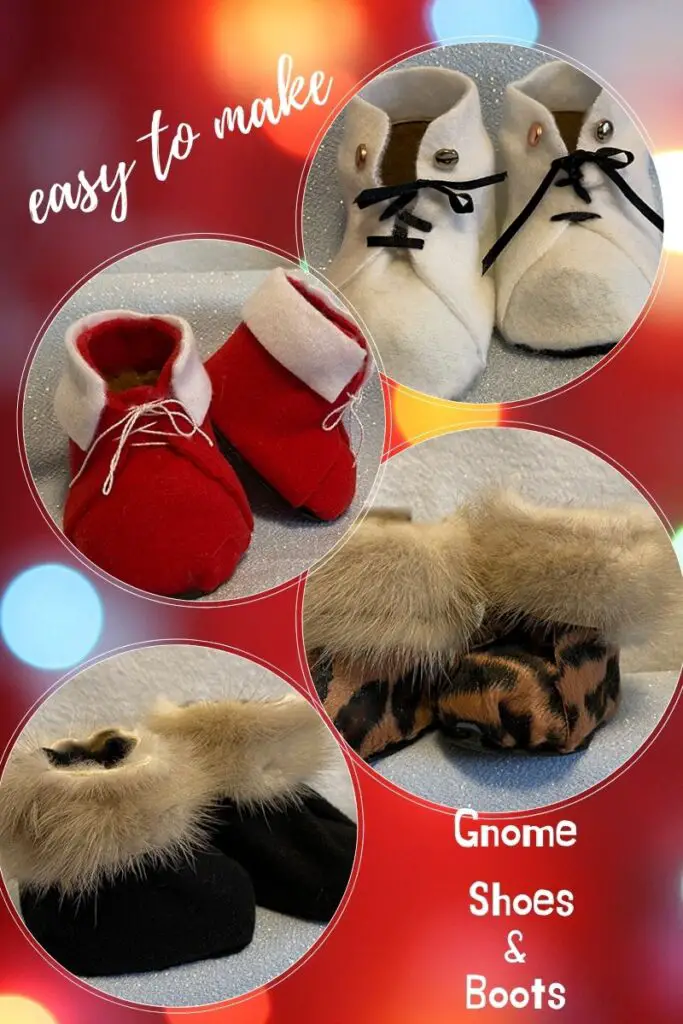 These cute Gnome Shoes and Boots can be used on Christmas Gnomes, in any colour you want, or even use them on a stand-up snowman, St. Patrick's Day leprechaun or whatever cool character you are making. Check out our long-legged standing Gnome project. It is perfect for these Gnome shoes.
What you will find in this post
Table of Contents
How To Make Gnome Shoes and Boots with Cardboard Tubes – The Video
Christmas is such a fun time to make your special decor pieces. It is a time to get creative with Christmas tree decorations, shadow boxes and whatever your favourite crafty ideas are.
Supplies needed to make Gnome Shoes and Boots
Helpful Tips and FAQs
Using Recycled items in this project
n this tutorial, we will use Cricut vinyl tubes, that I will cut down and use as the frame of the boots. The Cricut tubes are perfect because they are heavy-duty cardboard and will last for seasons to come, even after being packed away.
You could also modify this and use paper towel tubes, gift wrapping tubes or toilet paper tubes. paper towel tubes and toilet paper rolls are much easier to cut but will need to be wrapped when storing after the holidays, to prevent damage.
This is a perfect craft project to recycle some other leftover crafting bits too.
The Cricut vinyl tubes are used, but our boots also have a few other up-cycled elements. Our fur comes from an old mink coat. You know the ones I'm talking about, the ugly ones that might be in your grandma's closet.
The fabric and embroidery floss are leftover pieces from other projects.
The only out-of-pocket expenses I had in making these Gnome Shoes and boots, were for the hot glue, the cardstock and the foam sheet. Woo-hoo, who doesn't love budget-friendly crafts.
I used a Cricut maker to cut the soles of my Gnome boots. I love using my Cricut, as It means I get a flawless, perfect cut every time. The sole pattern is available for you to download for both Cricut and anyone looking for the printable version. You will find the SVG as well as the printable pattern in my free resource library. If you need a password, just sign up for free access and one will be sent to you.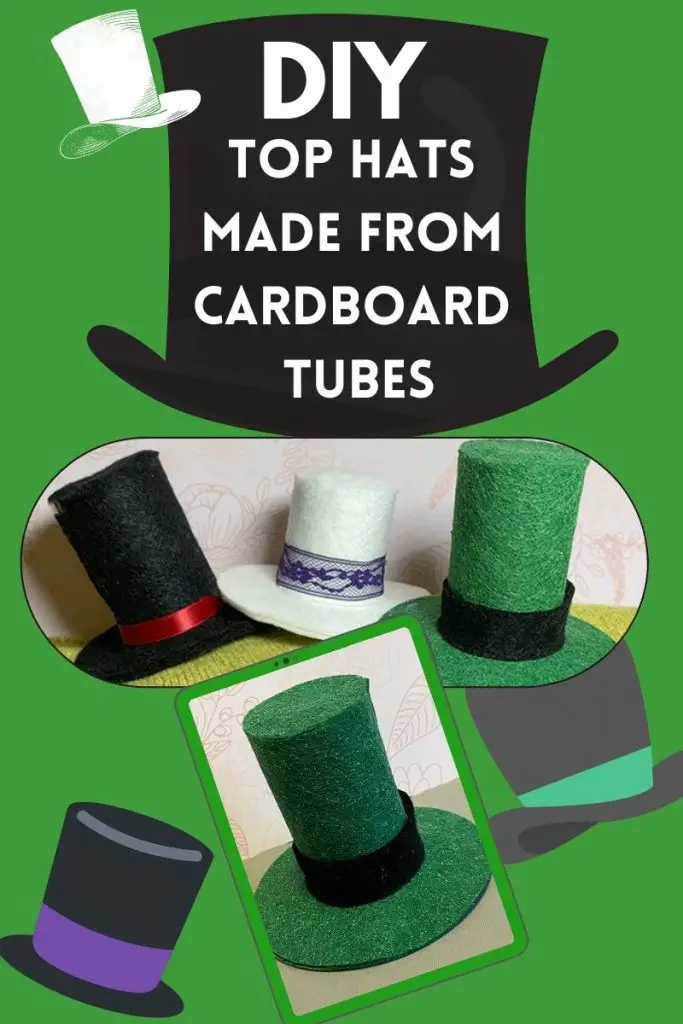 Cutting the cardboard tubes
For cutting cardboard paper towel tubes, wrapping paper tubes and toilet paper tubes, use scissors. The cardboard is thin enough that no special tools are needed.
For cutting Cardboard tubes from Cricut vinyl, or other tubes from other brands of vinyl, or Poster mailer tubes, you will need to use more power. I used a coping saw and a vice for some and then had the rest cut on a chop saw. A vice isn't required but you will need to make sure that when you are cutting the tube, you can stabilize it when sawing through it. You can use clamps or even tape to secure the tribe when cutting. Make sure that your table or surface is stable to prevent wobbly cuts.
Tools that are good for cutting the thick cardboard tubes.
You can use a hack saw, pipe saw, coping saw, a good quality utility knife or even a chop saw. Be sure to make safety a priority, by wearing safety glasses and following all safety guidelines for your tools. Cutting thick cardboard tubes can be tricky and we don't want any injuries.
Mark the tube in even intervals for cutting.
Mark with a sharpie or masking tape, where you want to cut the tube. My boots will be 3 inches tall. You can make shorter or taller boots and shoes, just remember to adjust the pattern pieces when cutting the tongue and sides of the shoes from fabric.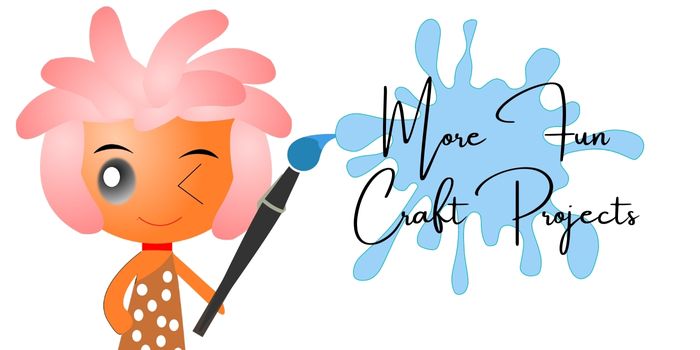 How to make Gnome Shoes and Boots – Step by Step
Cut the cardboard tube pieces
Cut the Cardboard tube into two 3-inch lengths and one 1.5-inch length.
Take the short piece of cardboard tube (1.5-inch tube) and cut it vertically.
For cardboard tube pieces you should have
These patterns and fabric pieces can be cut on a cutting machine or you can download the printable pattern from our library.
How to make Gnome Shoes and Boots with a cutting machine
Supplies needed to make Gnome shoes and boots
Download the project onto your computer from our resource library.
Upload the project into Cricut Design Space.
Choose the pieces you wish to use ( toe and bottom band are optional)
Resize to fit your tubes ( pattern should load the proper size for a 3-inch high show, but make sure that it is the proper size before cutting.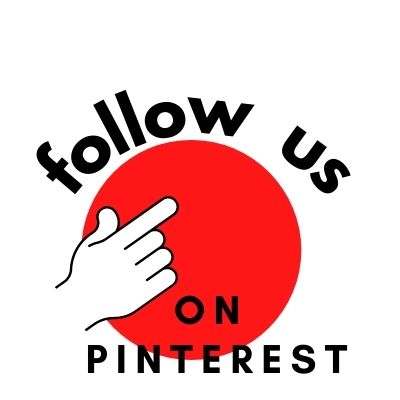 Gnome Shoe and Boot Pattern pieces to be cut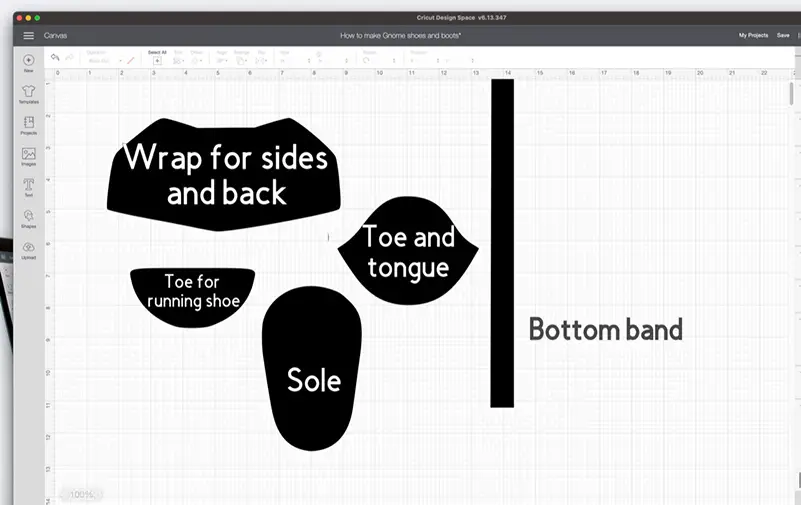 For each pair of Gnome shoes or boots, you will need to cut the following pieces.
2 soles from cardstock (inner sole)
2 soles from EVA foam (outer sole)
2 toe pieces (optional – if making running shoes)
2 tongue/toe pieces
2 side and back pieces
2 band pieces (optional – I generally only use this for running shoes )
How to make Gnome shoes and boots using scissors.
Download and print off the shoe pattern pieces and print them.
You may need to adjust the size of each fabric piece, after printing, depending on the size of the tube you have cut.
Cut the following pieces to make Gnome boots.
Cut cardboard tubes, as instructed above
2 soles from a black foam sheet
How to make Gnome shoes and boots – Assembly instructions
Glue Cardboard tubes onto cut soles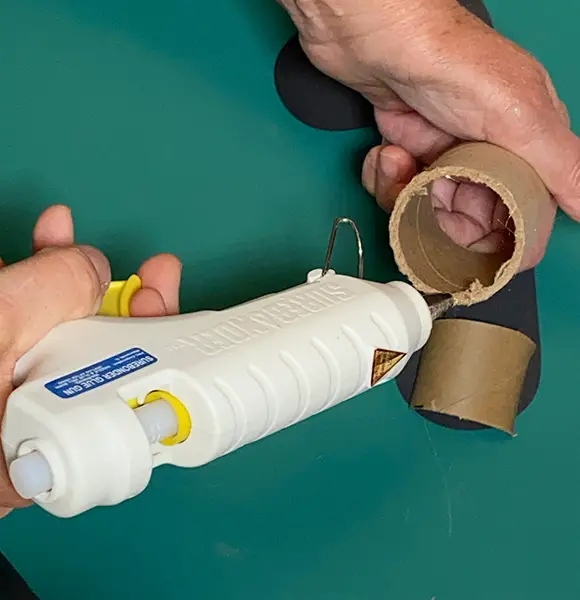 Step 1 – Run a bead of hot glue around the edge of the cardboard tube and adhere to the sole piece.
Step 2 – Run a bead of hot glue on the side cuts of the short tubes and adhere to the sole. (See picture above of how they should look after gluing)
Add filler to toe (Optional)
If you like the toe to have a rounded look, fill it with Poly-fil stuffing. This is not needed but will give the toe of the sho a bit of a rounded look. (Optional)
Adhere tape
Wrap masking tape or packing tape around the entire show. This will pull in any cardstock sticking out or fill any gaps you may have.
Apply Tongue Piece
Place some hot glue onto the middle of the cardboard where the tongue will be. Center the tongue and glue it in place.
Adhere Side Pieces
Run a bead of glue up the center of the back of the boot. Center the fabric and stick it in place.
Apply glue to the sides and wrap the side piece around until it overlays the tongue piece.
Let the boots dry.
Add sole
Apply hot glue to the bottom of the boot and secure the sole in place.
Trim any spot on the sole that may be sticking out.
Let dry.
Add Laces. ( Optional)
Using a darning needing and embroidery floss, stitch on the laces.
On the red fleece shoes below, I used embroidery thread. On the white booties, I used a fine ribbon. Both were applied using a large darning needle.
Tie the laces.
Apply trim.
Faux Fur makes a perfect trim on the top of our Gnome shoes and boots. You could use Ric-Rac, a contrasting colour of fleece, or even feather trim, there are no rules for the trim. Apply a bead of glue around the top and secure your trim in place.
If you don't wish to add trim, apply some glue to the inside of the boot around the top opening and fold in your fabric.
Add Embellishments
Add any other embellishments you wish, to finish off your Gnome boots.
Add miniature buttons, metal meads, or type pieces or sole bands. This is where you can add your personalization to your gnome shoes and boots.
Use your Gnome shoes and boots on your own homemade stand-up gnomes.
YOU MIGHT ALSO LIKE:
Once you know how to make Gnome shoes and boots, you can easily alter the pattern and make Santa shoes, Angel shoes and even boots for Frankenstein. These are super simple all the way and I am even using some leftover Cricut vinyl tubes. It is always great to recycle whenever we can.
Thank You for visiting Baker Steet Living.
This website contains affiliate links. As an affiliate, I earn a small commission from qualifying purchases (at no cost to you).